Redesigned Site Sets Habitat for Humanity EBSV Up for Success
---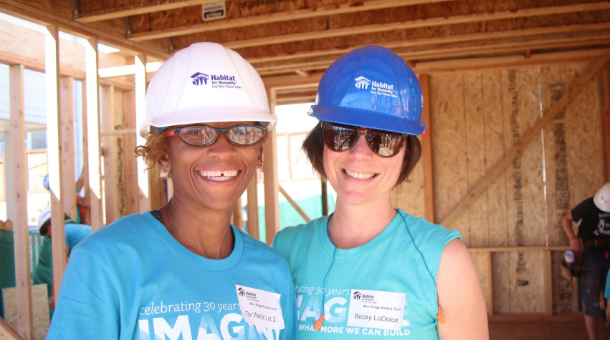 The Client
Habitat for Humanity East Bay/Silicon Valley (EBSV) is a regional off-shoot of the national nonprofit that partners with communities to build or repair homes for those in need. They work on home development and preservation projects in Alameda, Contra Costa, and Santa Clara counties in California. As costs rise and housing availability lowers, families with limited income face instability that could result in poverty -- something Habitat for Humanity EBSV vows to battle.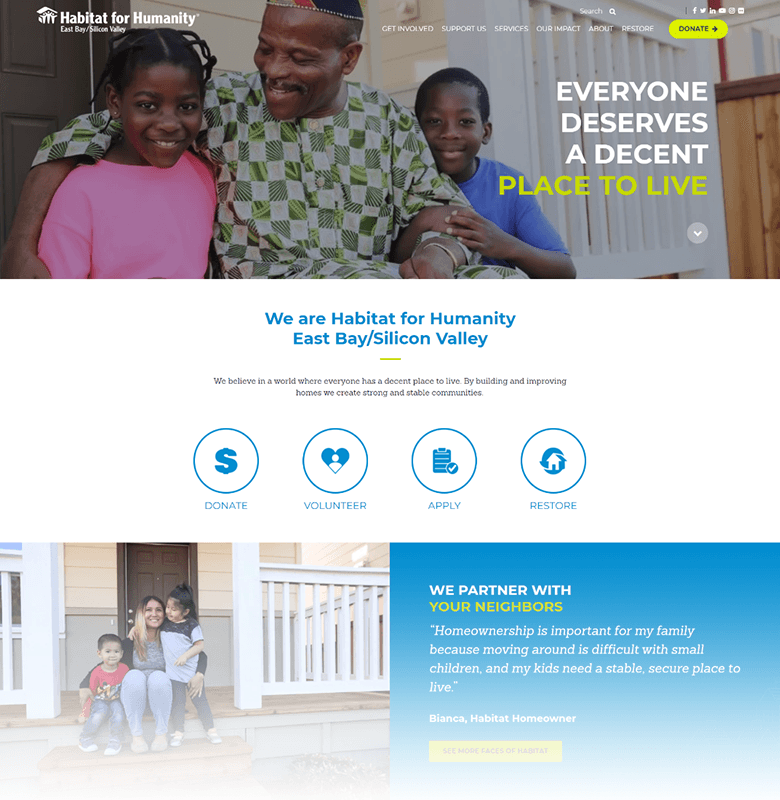 The Need for a New Website
Habitat for Humanity EBSV benefits from brand recognition that helps gain and retain their audiences' trust and affinity. Yet, they felt their site didn't promote a favorable user experience due to its outdated look and poor functionality. Specifically, they recognized their volunteers, and various donors spent too much time digging for information on a site that was overrun with unnecessary text. This meant website visitors didn't receive the valuable marketing information they needed to make clear decisions.



When they reached out to us to begin a partnership, they had clear goals in mind and signed on as a valuable Growth-Driven Design customer to maintain consistent support. For their website redesign, they needed to address these issues:
Too much copy
Outdated fonts and colors
Uninspiring, unorganized content
Confusing blog structure
Unclear and unmotivating CTAs
Bulky navigation that didn't follow the "3-click rule"
Lack of visuals further complicating their content issues
To achieve both a visually appealing site and functional marketing hub, we worked on:
Keyword and SEO strategy to help power their content marketing efforts
Buyer persona research on Volunteers, Donors, and Applicants to create more striking CTAs and persuasive copy
Site architecture to limit and guide visitors to the most fundamental pages
Six wireframes to ensure good user experience on various site pages and guide design and copywriting
Six designs, including revisions, to bring their message to life
Custom template development for their blogs, emails, and landing pages


The Results
After collaborating, we created a modern, responsive website based on the inbound marketing methodology that was awe-inspiring in look, messaging, and function. Design results include:
Easy to follow navigation that allows users to find what they need quickly
A blog that succinctly divides content for different audiences through CTAs and visuals
Inspiring, buyer-persona specific content across the entire site
Straightforward and eye-catching CTAs for every buyer persona: Donate, Apply, Volunteer, Restore
Minimized use of colors and fonts for impact (i.e., three colors and two font styles)
A customized form to aid the donation registration process that also integrates with their nonprofit management system
Strategically used negative space to emphasize graphics and text
A compelling layout for their volunteer page to highlight opportunities and ways to give
Concise content across all pages with accompanying custom icons
Optimized photographs from real-life events featured across several pages, including a captivating hero image on their home page
Aside from great design results, Habitat for Humanity EBSV has implemented further inbound strategies and enjoyed an uptick in their website's visitors, as well as other improved metrics. Comparing the year after the launch versus the year before, the site benefited from the following growth:
27.35% increase in organic traffic
27.7% increase in new users from organic traffic
12.18% increase in new users from all referral sources
11.5% increase in overall active users
4.32% increase in sessions, including direct referral, email, and social media
Are you interested in redesigning your site? Reach out today.