Your medical website is a living, breathing thing. Or better yet, a virtual 24/7 salesperson that's always accessible. As such, while your organization continues to evolve and better meet the needs of your patients, so should your website. But, unless you're a designer, it can be difficult to keep tabs on emerging technology and top website trends.
Don't worry; we're here to help! We're breaking down the top trends for your medical website in 2017, so that you can stay ahead of the curve.
Let's get started!
FUNCTIONAL TRENDS
A website that's functional and user friendly is always key. You want to cater to the needs of your patients by providing valuable information and resources that's easy to access. Here are some simple, but effective functional changes you can make to your website:
Focus on Content Creation. The content you create is the backbone of your medical website.

Your content

is what sets you apart from your competitors, highlights your expertise and builds trust. Content such as:

blog posts

, white papers, tip sheets and how-to-guides are not only helpful resources, but are also proven to attracts visitors to your website.


Always Responsive. A website design that is responsive is critical in order to ensure your website visitors have a positive experience. The key to achieving this, is to ensure that your website design can be accessed on any digital device.


Parallax Scrolling. Website pages that incorporate movement and at different speeds, is what we call parallax scrolling. While this tactic is not new, the emphasis on using it has gained popularity in the past year. Parallax scrolling allows your website visitors to have a one-touch, interactive experience with progressing images and content they can control. When done right, this tactic is extremely effective.
Interested in more functional trends? Find more tips here.


DESIGN TRENDS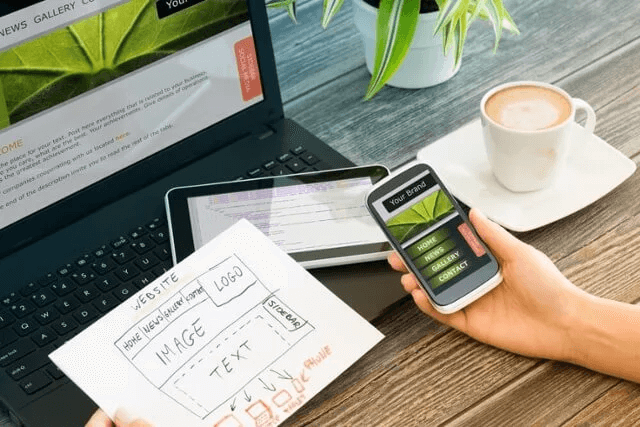 New year, new look. Let's apply this same concept to your medical website. From color to typography, there are a lot of appealing visuals and design elements you can easily incorporate to give your website a facelift. Consider these design trends:
A Simple and Straightforward Homepage. This year, we'll see more websites that emphasize a simple, clean design that features only a couple of words on the first screen. Why is this so effective? Namely because the number of people who browse websites are doing so on a

mobile device

. This type of design makes it easier for those to navigate your website on any tablet, while also leaving them wanting more and encouraging them to spend time on your website.


Utilizing Video with Sound.

Video marketing

is on the rise, and if done right a beautifully crafted video with sound can add to your user's experience. Videos should be short, and have the option to turn the sound on and off.


Incorporating a Neutral Color Palette. There is nothing wrong with bright colors, but overall we're seeing a shift towards using more natural tones. Think muted or softer hues, such as shades of beige and green.
For some additional design trends and tips, read more here and here.


There's a big difference between an inbound marketing website and a traditional website. What makes the two so different? For starters, with an inbound marketing website you have a greater conversion optimization rate. What makes inbound so effective is that you can utilize the content you create to reach every prospect at their stage in the buying journey.
Curious about what an inbound website looks like? We've worked with clients to implement a number of inbound platforms, check those out here. And, if you're wondering whether or not a website redesign that utilizes a new platform is for you, check out this great case study.
Okay, we covered a lot of information, so please keep this in mind: you don't have to make all of these changes at once. Depending on your organization's current needs - whether you're in the market for a website refresh or a totally new design - these trends and tips can help transform your medical website at a pace that's comfortable for your organization.
Looking for some additional help, or have questions about where to start? Contact us for a free evaluation. We would love to help you!