Cats and dogs. Peanut butter and tuna fish. Ammonia and bleach. Some things may seem like they're never meant to work together, lest they fight, taste bad or even explode. Sales and marketing used to be two of those things, and they may still at times appear to be on different pages.
Sales team members generally push to meet their quotas, aiming for short-term gains from immediate transactions.
Marketing team members tend to pull people in to stir up interest, aiming for longer-term strategies for building up a base of loyal fans.
While sales and marketing do have their differences, what's more important is what they have in common: the overall goal of increasing revenue for the company.
Sales teams want it. Marketing teams want it. And the two can actually work in tandem to get what they both want in a highly effective and efficient way.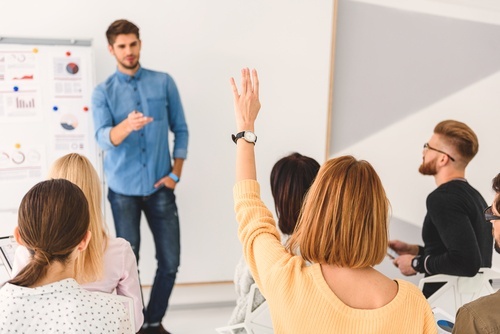 How Marketing Can Amp up Your Sales Power
The most accomplished B2B marketers already know the deal. Ask them what the main gist of their job is, and many will say it's to help salespeople be as successful as possible. No kidding. High-performance marketing teams are in on a valuable secret:
When sales and marketing work together for a common goal, their combined efforts can produce a boost in sales productivity, marketing ROI and the company's bottom line.
Your marketing team can have a direct impact on sales by:
Scoping out new influencers, markets and buyers
Elevating the quality and quantity of leads
Nurturing leads that are not yet qualified
Identifying ways to shorten the sales cycle
Producing on-target sales messaging and tools
Related: 5 Sales & Marketing Tactics Guaranteed to Annoy Customers
6 Questions to Get Started
Combining the power of the two departments starts with enhancing communication and transparency between the two groups. Have your marketing team members make the first move by interviewing your sales team members. They can kick off the conversation with six of our favorite inquiries:
What does your ideal buyer profile look like?
What excites prospects the most about our products/services?
What are the most common objections prospects have?
What's the average time frame for closing a sale?
How can we better support your goals?
Can we listen in on a sales call?
Arming your sales team with information from sales provides valuable marketing insight they can use to develop even more effective lead nurturing and marketing campaigns. And, just for the record, ammonia and bleach should still not be mixed. We've never tried peanut butter and tuna fish. But we've seen cats and dogs live together in harmony.