The Friday Five: Pinterest for SEO, The Best Time to Post Blogs, and Building Trust with Cautious Prospects
---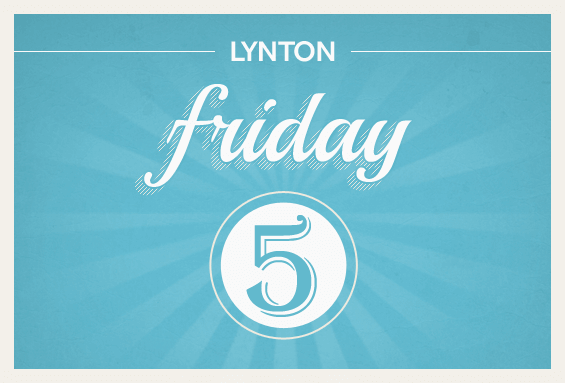 Another Friday and with it, another roundup for the Friday 5: Five Headlines from Social Media, Inbound Marketing, SEO, and Web Design, our weekly roundup for ideas and news that you can use. Here's some hot tips and news:
Pinterest for SEO
What to Know About Facebook's News Feed
The Best Time to Publish Blogs for Better Traffic
Content Marketing for Beyond the Sale
Build Trust with Extra Cautious Customers
(Search Engine Watch) Pinterest has quickly evolved from a simple idea to one of the most popular, revenue generating social media platforms. In the last 5 months alone Pinterest has grown its user base 43.7 percent to more than 70 million. These users aren't merely pinning pictures; they're buying products. Most social media channels lack the ability to drive non-assisted conversions and rely on attribution to justify spend. New studies are constantly being released showing that referral traffic from Pinterest converts directly into e-commerce conversions. So how can SEO professionals and e-commerce companies unlock the potential of this new channel?
2. 3 Important Things About Facebook's News Feed Announcement
(Social Media Today) Facebook has been pretty busy these past few months – Graph Search was rolled out to a wider user base, then the insights module received a much-needed facelift. And now it seems Facebook has set its gaze on its News Feed. On August 6th Facebook announced on its Facebook for Business page that a few key changes would be made to the News Feed, and confirmed some interesting details on how the News Feed chooses the stories it features. But they were less clear as to how, exactly, this might impact businesses and brands. From what I can see, there are three important parts to this announcement that businesses (and Facebook users in general) can take away from and implement in future status updates to come.
(Business 2 Community) You've worked long and hard on your newest blog post, and it has become almost like a baby to you. You want it to succeed just like you would your first born. You are hoping for tons of comments, traffic, and shares. But what you may not be considering is that what time during the week and what time of day you post your beloved blog will determine its success. So to help you out we are going to let you in on some traffic secrets that will help your content get to where you want it to be. First, remember that even though the following strategies are backed up by data from feedburner, the ultimate determining factor in successful blog posts is the content. If your content stinks it probably won't matter when you post it, it will likely see little traffic.
(CMI) In last week's CMI #CMWorld Twitter chat with Ardath Albee on B2B content marketing, participants discussed whether our job as content marketers goes past the sale. The consensus was that it should. "Why?" you may ask. My response is that you should have a content marketing strategy for customer retention if you want to convert customers into evangelists and, ultimately, extend the reach of your brand. This is in line with CMI's philosophy and definition of content marketing as well:
(Search Engine Watch) Despite having a comprehensive website, chock-filled with valuable information, one law firm found itself suffering from an opt-in rate for a free case evaluation of just 1.1 percent. The figure was so low that Google AdWords was an ROI-negative advertising medium. One of my colleague has been tasked with improving this client's website, which offered services for people who had suffered a particular misfortune. During a recent meeting, he shared some of the landing page changes he was testing: structure, copy, colors, images, elements, etc. I asked him about the thinking behind his choices. "We're trying to help the hungry and sick squirrels in the park," he explained.
By the way, are you ready for Inbound 2013? Here's a little something extra that will help get you prepared.
***
If you liked this blog post, you should share it. If you really liked you'll probably like the information our whole team publishes—you should subscribe. And if you really, really, liked it, then you will like engaging with the likeable, knowledgeable, loveable bunch at LyntonWeb through our social networks.