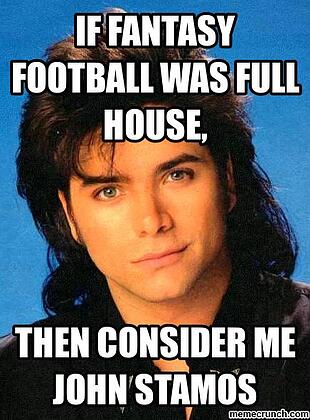 My love for football (and the Houston Texans) has grown stronger and stronger over the years. I've always refused to be the typical girl stereotype football fan asking her boyfriend "Like OMG! Like what the heck is a 3rd down?" during a game.
So this year I decided to give Fantasy Football a shot. I thought I did a solid job drafting my team. I thought the hard work was over. I was just going to relax and watch my team slide into victory and would sing "We are the champion" to all the boys who thought girls aren't any good at Fantasy Football. But as the weeks went on, I got a little more than I bargained for.
Of course I compare everything to my career, so I thought I'd give you 5 things that fantasy football has taught me about inbound marketing (so far):
1. Do your research.
You can't just show up to a draft and hope for the best. It takes a lot of research, planning, even participating in mock drafts. And there's no "right" pick. You can draft the #1 pick according to ESPN, and he will be your lowest scoring player (I'm not bitter).
Just like you have to research your players, you have to do research on your buyer personas. You can't expect your customers to read your content, contact you, much less buy your products if you don't understand them and what they actually want from you. So do your research to get to know your team, I mean, your buyer personas.
2. Make changes to your team and keep an eye on your bench.
As much as I thought I drafted the perfect team, I had to see how my players were actually performing. I had to keep an eye out for when my players were on bye weeks. I had to see how many points they were getting and if I need to make any changes. If your bench has a running back consistently getting 20 points a week, why is he still on your bench!?
I'm not saying get rid of your entire marketing team (unless they are Dallas Cowboys fans). What I am saying is that sometimes you need to make changes to your everyday marketing routine. Try out a new social media channel like Pinterest, LinkedIn, or even Instagram. LyntonWeb had great success stepping out of our everyday blog routine and shooting Friday Fails videos for a few weeks.
3. Your defense is important.
Not every team can have JJ Watt on your defense. That man is a beast. If you don't know who JJ Watt is then you must have a very cozy rock you've been living under. If your defense sucks then you can even get negative points from them. Picking a defense is just as important as your offensive players.
Let's say your boss comes to your desk and asks "How much money is this inbound marketing making me?" Your defense is to immediately go to your sources report in HubSpot, show him Google Analytics, show him the leads that have converted into sales in your CRM. Having those reports and numbers prepared will help your inbound marketing defense in any situation. Yes, I know how cheesy that sounded.
4. The competition matters.
When choosing your starting players for the week, you always need to keep an eye out on what team they are playing. If the competition has an amazing defense or explosive offense you might consider starting another player.
You have to know what your competition is up to, no matter what industry you're in. You need to make sure you're staying on top of the latest trends, and you're not just copying what other competitors are doing. Staying original and fresh while still keeping an eye on your competition is key.
5. Home field advantage can make a difference.
The Houston Texans are lucky enough to have an amazing fan base. Even when we were on the road and played the Cowboys, Tony Romo had to use a silent count since the Texans fans were so loud. So when it comes to my fantasy team, I always look at where the teams are playing.
So if home field advantage can make an impact in fantasy football, it certainly can make an impact on your business. So take advantage of local events in your city. Network with other marketing professionals. Check out the local Hubspot User Group in your city. Finally make sure your business is optimized for local search and has a Google+ local page.