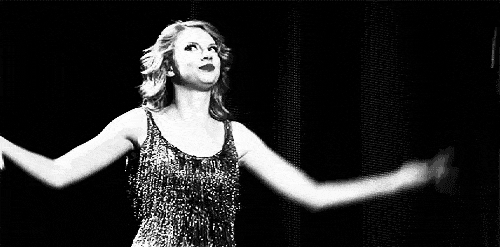 I thought my co-worker Bridget was my friend. Then she wrote this blog about what Taylor Swift doesn't know about inbound marketing. Doesn't she know how much I love Taylor? Doesn't she know I have every single deluxe CD and been to every single world tour concert?
I took her blog as a personal insult. Given Taylor Swift's recent Time cover, #1 album, and millions of social media followers, I knew I had to defend her honor. Here is what Taylor Swift does know about inbound marketing: Take that, Bridget.
She Knows Her Buyer Personas
She knows we are all 12 year olds that have had our heart broken and love cats. Just kidding, but not really. She knows who is buying her music, coming to her concerts, posting about her on social media. She knows who is going as far as buying little Taylor Swift Christmas ornaments. Leave me alone, it's a really cute guitar and it plays 3 different songs when you press the strings.
If Taylor Swift didn't know her buyer personas, or was trying to be everything to everyone, I doubt she would be as successful as she is today.
She Knows Social Media is Important
Taylor (I can just call her by her first name because we're friends) is a real personality on social. She is herself, and she is real with her fans. She doesn't outsource her social media or have her PR manager take charge of her account. With her latest album she started a hashtag #taylurking and used it to post pictures she found of her fans that had bought her latest album.
Yes, to do social media right, it takes time and effort. It isn't always easy, but the statistics prove that it's worth it.
She Knows Loyal Fans Are Her Best Advocate
Despite what Bridget said in her blog, I believe Taylor goes above and beyond to ensure her fans know how much she appreciates them. For example, Taylor used social media alone to find the most deserving fans across multiple cities. Then she invited them to her house for a "secret session" where she played her new album 1989 before its release. She invited her fans to her house. They took selfies. And singed and danced to her new songs. Seriously, what celebrity does that?
If you spend all your time attracting new customers, but don't focus on nurturing your existing relationships, then your priorities are messed up. Be sure to focus on creating loyal fans for your business or brand.
She Doesn't Stay The Same
She started off in Nashville as an acoustic country singer, now she's being called the Princess of Pop. Her music has evolved as she's grown up. She's not afraid to try new things, and I think that's part of the reason she is so successful. If she were the same country artist she was a few years ago, she might not have 7 Grammys at 24 years old.
Whether that's trying a new tool, A/B testing a landing page, or trying to blog for the first time, put yourself out there and try something new. Sometimes rewards take risks.
She Knows What's Free and What Isn't
So what she took her songs of Spotify? She works hard for the money! Guess what, there are 30 million views of her new video "Blank Space" on YouTube, and it was published a few days ago. By the way, YouTube is free. She's not the only one that works hard on her albums, there are hundreds of talented individuals that work to deliver an album.
You can kind of compare this to content that should be gated and ungated. An in depth case study that gives away specific company information is not going to be ungated on your site. It will require someone to fill out a form with a few questions to receive that information. So know what information should be free and open to your readers, and what isn't.
So there you have it, Bridget. Have I convinced you yet? What do you think- does Taylor know inbound marketing?