You've been there before: You're stuck in the same routine — just another cog in the system, another member of the status quo. Sometimes you just need more out of life, right?
The same can be said of your business operations software. It's getting the job done, but you need more — more data, more reports, more workflows, more calculated properties. That's where Operations Hub comes into play.
With Ops Hub, you get more of everything at your fingertips, including the confidence to make better business decisions based on cleaner, more powerful data.
What is Operations Hub?
In addition to helping users better automate business processes, Operations Hub will help you clean, curate, sync, and maintain data. You can dig into more advanced data from your integrations and set up advanced workflows that improve efficiency.
Four of our favorite features include:
Custom-coded workflows
Datasets
Calculated properties
Automated data cleanup
What Are Custom-Coded Workflows?
Custom-coded workflows are little snippets of JavaScript developers write. We love them because you can use custom-coded workflows to extend workflow functionality within and outside HubSpot.
We love them because oftentimes they're the most simple solution to a larger problem. Sometimes clients think they need a whole integration when really all they need is a workflow to trigger something to happen.
For example, we have a client that wasn't getting notifications from another system that leads coming in were qualified leads. We created a custom-coded workflow to route that lead with the client's routing logic and send email notifications to the proper reps.
Another example: We had a client with loads of duplicate custom object records because of something that went wrong with an integration. We used a custom-coded workflow to bulk dedupe their custom object. Our code looks for a contact based on an email field on the custom object, and if it finds it within HubSpot, it automatically associates it with the corresponding contact and gets rid of the duplicate.
What Are Ops Hub Datasets?
Ops Hub datasets allow you to curate your HubSpot data into groups. This will make your team more efficient and enable consistent reporting. We love datasets simply because we love data. The more data, the better!
Datasets are especially beneficial to companies that are scaling rapidly. As you grow, so does your data, and slogging through all of it is time-consuming without the right tools. Ops Hub will help you regain control of your data and curate it into clean and consistent collections everyone on your team can understand.
We've seen datasets used in conjunction with Sales Hub. Advanced reporting is a favorite among sales reps because it gives them a deeper look into revenue numbers, sales velocity, and more.
What Are Ops Hub Calculated Properties?
Calculated properties are just that: they automatically calculate the minimum, maximum, count, sum, or average value for properties on associated records. You can also set up custom equations based on other properties.
We love them because math is hard, but also because they provide the accuracy you need to make better business decisions. With HubSpot, you get five calculated properties out of the box. When you upgrade to Ops Hub, you get 25.
We've seen them used frequently in the foodservice industry. Clients use them to add up line items or add line items together. We've also seen sales teams use them to calculate commissions.
What is Automated Data Cleanup?
There's nothing like a good, deep cleaning. Whether it's your house, car, or office, you always feel better when it's done. HubSpot's Ops Hub automated data cleanup will help you set workflows to keep your data in check.
The cleanup can be used for data formatting, like capitalizing names, enforcing data entry style, catching errors in CSV uploads, and more. This feature won't individually dedupe for you, but it will let you review contacts and dedupe in bulk.
We love it because clean data helps you make better decisions, and there's nothing worse than looking at data with foreign symbols, errors, or formatting problems.
For example, we've seen in our marketing clients that rely on automated personalized campaign emails and personalized landing pages, this feature allows their marketing assets to display consistent formatting.
Who Needs Operations Hub?
Still not sure if you need Ops Hub? Check out this checklist. If any of these sound like you, reach out, and we can help you make the final call.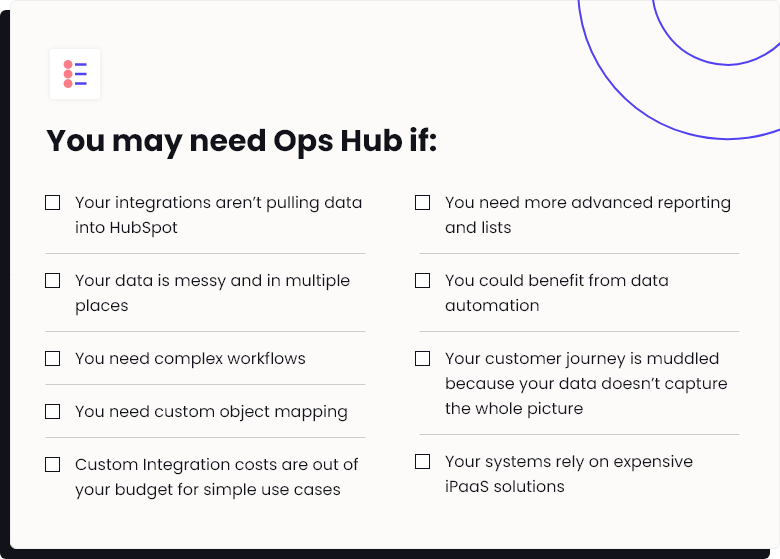 Get Started with Operations Hub
If you're ready for powerful data you can immediately use rather than mediocre, possibly erroneous data, get started with HubSpot's Operations Hub today. We have a team of solutions engineers who are ready to help you optimize your portal, your data, and your bottom line.