How You Can Extend Data Sync's Integration Capabilities
---
We can all agree that Operations Hub comes with some extraordinary features, but there's one worth highlighting because there are methods to enhance its integration capabilities. Namely, Data Sync.
As described, Data Sync, which comes with all Operations Hub tiers, syncs current and historical customer data bi-directionally and in real-time, connecting HubSpot to 25 popular applications. Another way to look at Data Sync is to refer to it as an integration, or connection, of HubSpot's data with an external platform.
How does information flow using it? Data Sync works by connecting default and custom properties (depending on your tier) from contact or company records. For instance, let's say you choose Salesforce as one of the applications to sync using this feature. Utilizing Data Sync, a Salesforce contact would flow into HubSpot as a HubSpot contact, and vice versa. That means all the details related to your Salesforce contact would instantly appear in HubSpot, letting you use that information with HubSpot's tools. You'd also benefit from having HubSpot contact or company details appear in Salesforce.
All of this is excellent and can help align your different teams by keeping data up to date and available in multiple systems. Yet, you could potentially need a little more – particularly if you have a more customized platform you want to sync with HubSpot. Or, if you want more than just contact and company records moving in and out of HubSpot and another system, you'd also need a more in-depth integration.
Luckily, with the higher tiers of Data Sync, there is customization available. However, you still may need to go just a little further. In situations like these, Lynton and our child brand, SyncSmart, can help (that's right, we do more than simply write about integrations!)
---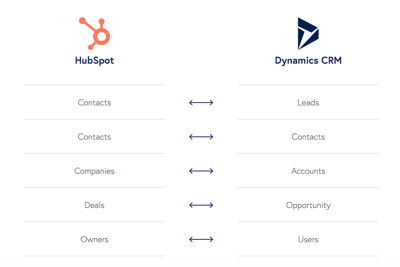 SyncSmart offers a series of packaged, downloadable HubSpot integrations for different systems that go beyond simply syncing contact and company fields. Take Salesforce again as an example. SyncSmart's packaged app syncs Salesforce Leads, Users, Accounts, Opportunities, and more bi-directionally. All of these may be useful to operations teams or managers as they dig deeper into their company's processes and workflows.
See SyncSmart's library of integrations here.
---
Sometimes, a packaged integration that lets you sync Activities, Members, and other data is just what you need. Other times, your organization needs to go even further with your HubSpot integration. The Lynton team can build custom solutions to move your most unique business processes from one system to another. We do this through custom field mappings.
The best way to describe a custom field mapping is to provide a real-life scenario. You may have non-standard fields in your HubSpot portal that don't exist in a typical CRM or ERP system. You could have a field titled, "What is the best method to contact you?" on a HubSpot form. Mapping this field back to your CRM or ERP system can provide helpful information to your dashboards that your sales, marketing, and operations teams look at regularly. With a custom field mapping, you can have that data remain in your HubSpot portal and flow into your CRM or ERP to utilize it as needed.
Think a custom integration fits your needs? Learn more about out-of-the-box vs custom integrations.