If you're feeling frustrated with your current content management system because it's outdated, slow, or not connected to your CRM, then it may be time to consider upgrading to HubSpot. A migration takes place when you rebuild your webpages, landing pages, and blog onto HubSpot's CMS. It can mean merely moving your current design and content or redesigning and reorganization your content entirely.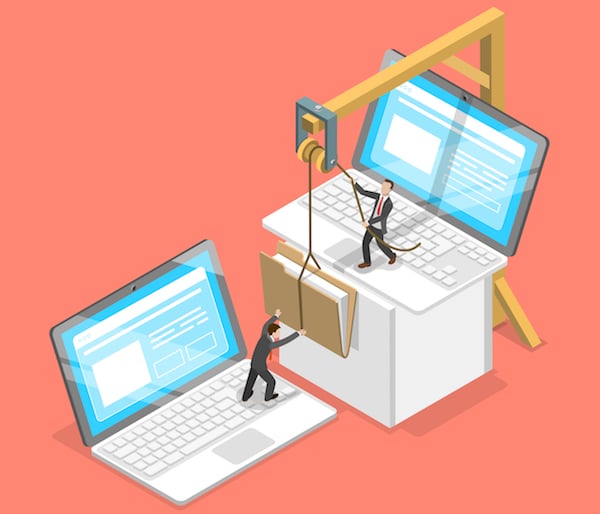 Before diving into the nitty-gritty details, you should recognize why many inbound marketers choose to switch to HubSpot. Migrating your website to HubSpot's all-in-one platform comes with a variety of benefits like seamless integration (think HubSpot CRM and other apps), marketing efficiency, personalization, responsive design, and more.
Many organizations like this because it decreases the number of systems in their marketing tech stack. With fewer platforms, there's less to manage and onboard and more time to focus on more important items. Likewise, HubSpot is user-friendly and doesn't require the support of your IT team to make necessary updates. You also get access to pre-built reports or custom reports with HubSpot to analyze the performance of your website and other efforts.
---

Ultimately, using HubSpot's CMS can help marketers do their jobs quicker and faster.
Here's what you need to consider before beginning your migration project.
Who Will Do the Migration?
When it comes to migrating your website to HubSpot, there are three avenues you can take.
HubSpot. HubSpot has a migration team who can handle the entire project for you. This approach is best for companies who want to move their current design from their CMS to HubSpot – without reimagining anything or reworking content.
A Certified Partner Agency. HubSpot agency partners can also handle the migration for you. A HubSpot partner (like LyntonWeb) can also help you update your inbound marketing strategy or design that goes along with your website.
Yourself. If you have an in-house IT team, you may be able to complete the migration yourself with HubSpot's pre-made templates.
No matter who you select to do the actual migration, we have some tips to ensure your project is smooth from day one.
Nominate one person to be your point of contact.
Do your research on HubSpot, including taking HubSpot academy courses.
Have in-depth conversations across multiple departments before, during, and after the migration.
Study what HubSpot planning tools may help you. (i.e., resources like HubSpot's SEO tools to organize your content, and HubSpot reporting to see the before and after).
Realize that your timeline will depend on the complexity of your website, so it may be wise to phase in specific steps.
What You'll Need to Migrate
The vital elements you'll need to move from your current CMS to HubSpot are the templates of your website pages and landing pages and blog. What actually moves from one to another will depend on your strategy.
Templates
Templates are the bulk of your website migration. After all, they make up the look and feel of your homepage, landing pages, and other website pages. How your templates migrate will depend on who is migrating your website.
As mentioned, HubSpot can move your site to their CMS and carefully match your header, footer, typography, and style by providing you with a defined set of templates. If you're moving your site yourself, you'll also need to use pre-defined templates from HubSpot and the HubSpot marketplace. However, with an agency, you can choose to either use prebuilt templates or re-envision them with the help of their development team. Important things to note:
Native HubSpot templates come with numerous benefits like smart content, personalization, forms, and other components closely tied to HubSpot's core functionality.
Updating your templates can help you better tell your brand's story throughout your website.
Content will not be migrated with your templates, so you can choose to readdress your content strategy.
Content
Perhaps the most vital piece of your site is your content. Without it, your visitors wouldn't know what you do or how you can directly help them. That's why closely examining your content when you choose to migrate your site is so important. While templates are essential, they certainly don't tell your company's entire story. Consider these suggestions:
Know where all your content currently lives on your site and what migration options will work best for it (HubSpot, agency, yourself).
Ask yourself what the user experience will be like on your new HubSpot site (will your navigation need to be updated? will you import all your previous images and other files? how will your sitemap carry over?).
Consider using HubDB to create dynamic pages, which allows you to generate pages that follow a similar template, in mass. HubDB is also great for pages where you want to create filtering options (best if you're using an agency to migrate).
Ask if you'll be using live chat or bots after your migration and what this will look like.
Weigh your options to migrate your blog carefully (will you use an RSS feeder to migrate? will you change the style and posting frequency? will you move all over your blogs or just some? will you take advantage of HubSpot modules or go a different route?)
Data
Without a doubt, your current site holds a lot of crucial data for your marketing team. Knowing how and what to migrate it is imperative to a successful project. For example, if you store credit card or patient information on your site, you cannot move this to HubSpot. Outside of this, you need to consider other parts of your data like:
Are you migrating all your contacts so you'll have an existing set to use with HubSpot's functionality?
Have you organized your data before your migration, so your team is set up for success once the migration is complete?
Do you have data from external systems you need to sync?
What Can Go Wrong with a Migration – And How to Avoid It
All of that may sound pretty overwhelming. Unfortunately, a migration project can be, and because of that, common mishaps can occur. However, if you're aware of them beforehand, you may be able to avoid them entirely. Common mistakes:
Slapping an old experience onto a new platform (migrating your website allows you to reimagine your entire inbound strategy from design to tactics.)
Not using HubDB or custom modules to create an optimized content editing experience.
Underestimating the effort it will take to complete this project.
Not agreeing on the goals of your migration internally.
Picking the wrong resource to handle your migration.
Final Thoughts
Understanding the benefits, steps, and mishaps of a migration can guide your project to success. Using a trusted partner, like LyntonWeb, can also aid in making it smooth and better-enhanced for your inbound marketing strategy. Contact us today if you're ready to move from your old CMS to HubSpot.