World's Strongest Man Pulls 700lbs of Chicken in New KFC Ad - Inbound Marketing Highlights
---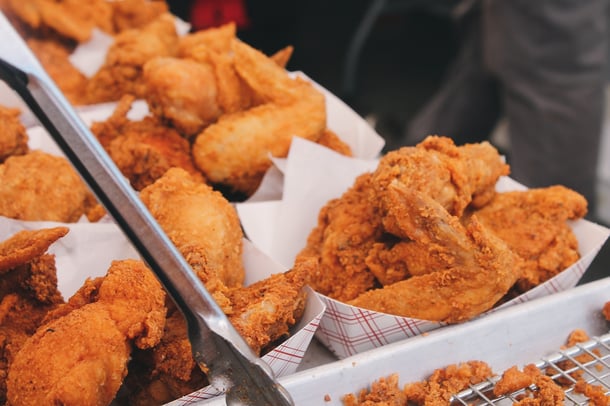 This week in Inbound Marketing Highlights, we have food marketing stories from Frito-Lays, produce companies, and KFC, who is making headlines once again with their latest commercial. We're also taking a sneak peak at HubSpot's newest products and discussing the effectiveness of content marketing. Read on to learn more!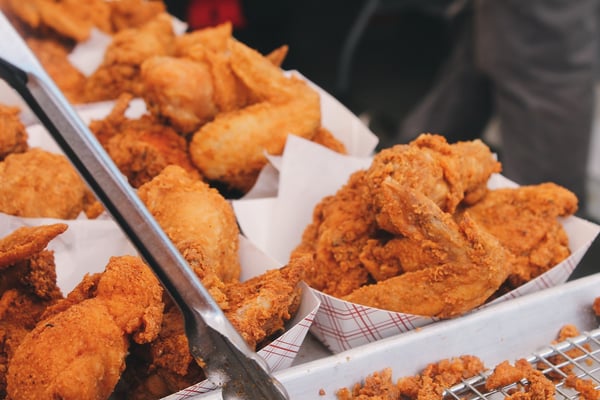 World's Strongest Man Pulls 700lbs of KFC Chicken
If you have read Inbound Marketing Highlights before, you know that KFC has some of my favorite marketing stunts. This time they are making headlines with a new campaign featuring the World's Strongest Man. You may be wondering what he has to do with chicken; well, in the campaign, they have him pulling 700lb sled full of fried chicken sandwiches. This ad was released as a three-minute video showing the challenge, as well as telling the Double Crispy Colonel's backstory. The World's strongest man also doubles as the character, The Mountain, in HBO's "Game of Thrones." By featuring him in their clip, KFC is targeting the shows audience as well as those who follow strongman competitions. On another note, by continually pushing the Colonel mascot, KFC has seen a 2% increase in same-store sales growth. Their marketing stunts overall has been successful in winning back younger consumers, like Get Z,who had started to drift towards competitors.
HubSpot is Launching New Products at INBOUND 2018
Who's excited for HubSpot's INBOUND 2018 conference? The entire LyntonWeb team is going and I'm especially looking forward to seeing their new product launches. HubSpot has been kind enough to give us a sneak peak of their new products like a new and improved Marketing Hub Enterprise and Sales Hub Enterprise. The new Enterprise packages are expected to provide many new and advanced capabilities inside the platform. These include custom bot building, Sales Playbooks, improved team metrics tracking, as well as a new Conversion Tool Inbox. Another great feature we're looking forward to is HubSpot Video, which will be available across the entire platform. These features will include in video calls-to-action and forms, video hosting, a simple video creation tool, and more. The idea behind this launch is to assist growing businesses in leveraging video in an authentic and personal way. Which new product are you looking forward to the most?
See Also: INBOUND is Coming – Here's What We're Most Looking Forward To
Frito-Lays Preps for Back to School
Frito-Lays is making back to school a little bit more fun for students (and parents) by adding new Snackable Notes to their mini chip bags. This new packaging addition allows parents to leave little notes for their kid as they put their lunches together. And even better, people who utilize this note box have the option to win $1000 with a new winner drawn each week. This chip brand even went so far as to make a special Alexa app, where contestants can find lunch note inspiration, for this competition. With the intent to help build connections, this brand is successfully adding a high level of personalization, while also cashing in on the voice technology trend.
How Fresh Produce Companies Target Young Audiences
Chip companies are not the only one's trying to get a share of back to school marketing; fresh produce companies are trying to get in the mix. And most produce companies are specifically targeting college kids. The idea is to marketing fresh fruit as the perfect thing to snack on between classes and during late night studying. Having graduated college not too long ago myself, I know that fruit isn't all that cheap! This is why major brands like California Berry Farms are also encouraging email-opt in and a chance to win gift cards. And in true inbound style, they are also offering a downloadable back-to-school-guide as well as a Fresh Start eBook that contains recipes and other healthy eating tips. They are also offering materials for families, aimed at busy moms who are packing lunches.
Content Marketing Works - Studies Say
While everyone has heard of content marketing, some will argue it's a waste of time. Studies however prove differently, as it was released that over 82% of consumers have made a purchase as a result of content marketing efforts. So not only does content marketing have an SEO benefit, it is also proven to move customers through the sales funnel successfully. Marketing content clearly makes an impact with 53% of people saying they've revisited a website after consuming it's content, and 50% do more research after looking at the content. And while more, and more consumers are becoming aware of content marketing as it grows in popularity, this however does not turn them off to it. 67% of customers in fact claim that it is useful and valuable, especially when it's high quality.
See Also: Content vs. Advanced Content for Your Inbound Marketing Plan
That's this week in Inbound Marketing Highlights! Stop by next Sunday for more!