Not so long ago, millennials were sitting in your consultation room getting their ears and noses checked and having their growth marked on your growth chart. Now, the oldest of the millennials are getting jobs, getting married, and starting families. And that means they're looking for new doctors.
But millennials don't choose doctors—or anything, really—the way their parents did. They are the first generation to grow up with the Internet, and as technology natives, they're changing everything from marketing to dating.
That includes your medical practice.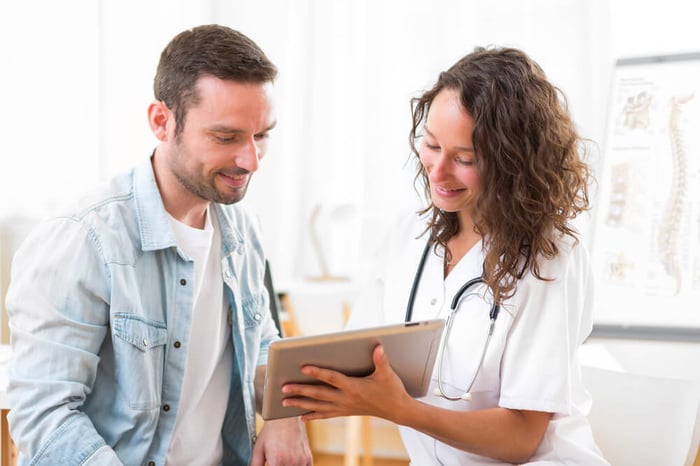 How Millennial Patients Have Changed the Medical Marketing Landscape
In the past ten years, millennials have instigated a seismic shift in consumer marketing that spans every industry from healthcare to shoes. Here are four things they are looking for from their healthcare practitioners:
Transparency—Millennials are cost conscious, and they also want to know that the people they deal with are genuine. Transparency in your fee structure as well as in your advertising gives you an advantage as you market to a generation that relies heavily on social media for healthcare recommendations.
Convenience—This generation is used to shopping, dating, playing, and working online. Websites that cater to millennials should emphasize positive patient experiences, useful content, and flexibility.
Mobile Savvy—Millennials are just as likely to search for your practice on their smartphones as on their desktops. That means your website needs to function flawlessly on various mobile devices and operating systems.
Social—A shocking 90% of millennials trust medical information shared by their friends on social media. They're more active on social media than any other generation. If you want to reach them, you have to meet them where they are.
Millennial-Savvy Marketing Strategies for Healthcare
While millennials are extremely involved online, they also value human connection and authenticity. They can spot a marketing ploy a mile away, and that means traditional marketing techniques like sales letters and generic ads often don't convince them.
So what can you do to connect with new millennial patients and bring them into your practice?
Emphasize education, not sales—Millennials value organizations that address their genuine needs rather than making a sales pitch. That's why effective millennial marketing always starts with education. Your website, blog, newsletter, and social media feeds should be filled with valuable content that speaks directly to the concerns of your millennial audience.
Create engaging content—While you're brainstorming educational topics, remember to make the content engaging. That means knowing what your audience is searching for and presenting valuable information they can use. Start with a strong SEO strategy, carefully researched keywords, and content targeted to people at different places in the patient's journey.
Get active on social media—Social media marketing is one of the most important steps you can take to make your practice more visible to millennials. Build an intentional social media strategy to promote your content, encourage interaction, and generate interest in your practice.
Make action easy—Make it easy for millennials to take the desired action by designing your website and content around that next step you want them to take. Consider creating an online scheduling feature where visitors can book an appointment online, use a responsive website design that renders effectively on any device, and enable one-touch dialing for phone numbers using touchable links.
Automate messaging—Use automated texts and emails to remind millennial patients about appointments or follow up after a visit. Implement email campaigns to nurture leads and encourage them to book that first appointment.
Millennials are changing the way marketing works—and maybe that's a good thing. As you respond to their desire for engaging, valuable content and human connection, you'll build a healthcare marketing strategy that emphasizes the needs of the patient and authenticity on the part of healthcare providers.
And that's something we can all benefit from.
Do you need help creating an effective marketing strategy for your millennial patients? Our healthcare marketing experts are standing by to answer your questions! Give us a call for your free consultation!