Every day, Google entertains 3.5 billion searches, which roughly translates into 1.2 trillion searches per year worldwide. Now those are some impressive numbers! Because of this fact, it's a no brainer as to why most businesses today have a website and spend time making sure their website performs.

We'll let you in on this little secret: search queries related to your healthcare practice or services must be facilitated by your website. What this means is that only when you make changes to your healthcare website may you satisfy the search engine. If you're finding that your healthcare practice isn't showing up in relevant searches, there are some easy changes you can make to improve your site's visibility and your patient's web experience.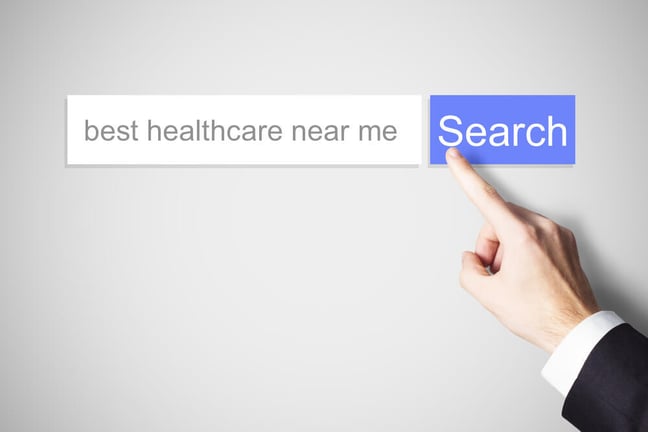 Try making these five simple website changes today in order to get a better response from the search engines
#1: Write Better Content
Creating great content is time intensive, we know. But, we can't stress how important it is. Without great content you'll fail to engage your audience, which will in turn reduce your clout with search engines and getting your page visibility. Here are some simple, but effective tips to help you create remarkable content:
All of your website pages should include concise, clear and descriptive content that has been optimized for specific keywords and phrases;
If you have pages without a lot of content, you can use a "noindex" attribute, which will prevent Google from indexing that specific page; and,
Focus on your homepage, service and contact pages first, to ensure they are optimized with your target keywords. Don't keyword stuff, but use your keywords where it feels natural.
#2: Remove Broken Links or Errors
One of the easiest ways to frustrate potential and current patients is with broken website links or 404 errors. A great tool for checking 404 errors, is to use Google Search Console, and then look for Crawl Errors. If your healthcare website is on Wordpress, there are several plugins you can use to automatically redirect the user to another webpage. As a general rule of thumb, we recommend checking for errors or broken links every few months, or when making any big website changes.
#3: Optimize your Images
Optimizing your images is an easy task, but often something people forget to do when updating their website. When optimizing your images make sure they are small enough files to load quickly, and ensure that you add a description, alt tag and caption. By doing this, it helps the search engines identify your image and it will then show up in search queries.
#4: Improve your Website Loading Speed
While your website speed doesn't necessarily affect your search engine visibility, it is still important. A faster site lends itself to a better user experience and overall higher conversion rate. Here's how to improve your site speed:
Use the right images and optimize them;
Use a good caching plugin;
Delete any unnecessary meta data; and,
Utilize the right plugins (don't go overboard).
Want to test your website speed? Try this tool from Pingdom.
#5: Create Unique Title Tags and Meta Descriptions
How are title tags and meta descriptions different? Great question! Titles tags are the headlines for each of your pages that are served up in search engine results, while meta descriptions are the snippets or descriptive text. Together, they serve an important purpose: to help your pages rank higher in search queries, and improve your click-through-rates.
Here are some quick tips to write good title tags:
Tags should be no more than 50-60 characters long (this includes spaces);
Use your most important keywords first;
Do not duplicate tags (every page should have its own title tag);
Make sure all tags are relevant; and,
Make sure your headline is different from the title tag.
Here are some quick tips to write good meta descriptions:
Meta descriptions should be no more than 135-160 characters long;
Include your keywords (Google will highlight the keywords in bold when searchers use it);
Don't overstuff your meta descriptions with keywords; and,
Do not duplicate your meta descriptions.
Have questions about our tips? Or perhaps you're running into roadblocks trying to update your healthcare website? Let us help! Contact one of our experts today for a free evaluation, we promise it's easy.