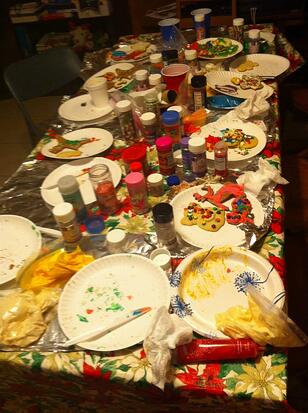 The holiday season is in full swing, and for myself and my family, that means it's time for our annual Cookie Day (a family tradition of about 20 years). The first Saturday of December we get together and bake a ridiculous amount of cookies, candy, fudge, you name it. Then at the end of the day we split up all of the baked goods and everyone goes home with approximately 30 pounds of cookies.
I had been talking about it non stop at the LyntonWeb corral for the past few weeks beforehand, and most people just seemed to ignore me (I'll give them credit, I do talk a lot). I just wanted them to understand the magnitude of what Cookie Day is and how many delicious baked goods I was going to be so selflessly bringing them.
I finally brought in a tray of cookies from Cookie Day to our December HUGs Meetup, and everyone was thrilled. People were asking about where the cookies came from, which ones they should try, and were asking what other types of cookies there were, and if I could bring more.
This got me thinking. Why weren't people listening to me before!? I had been talking about this for weeks! NOW they were excited!? I wanted to throw the plate of cookies in their face! But instead I calmed down, and I realized it was my fault.
I'm an inbound marketer, but I didn't use inbound marketing to promote my cookies.
So instead of throwing the plate of cookies in their face, I got to thinking, and I decided to use my inbound marketing knowledge to better prepare myself for Cookie Day next year. So I hope you can learn from my mistakes:
1. I didn't know my 'buyer' persona.
Instead of interrupting people about Cookie Day and telling my coworkers to get excited, I should have brought in a small sample of cookies and left it in the break room with a little note that says "This is a small preview of the amazingness that is going to come from Cookie Day." That would have gotten their attention. They wanted samples, they wanted to taste the cookies! They didn't want to hear about Cookie Day and how I found the perfect holiday cookie tray; they just wanted me to shut up and give them a cookie!
2. I didn't give value first.
When I brought in the tray from Cookie Day, my co-worker Jason exclaimed "I didn't know there was fudge involved! Why didn't you tell me this?!" Instead of starting an argument and giving the same speech that men just don't listen, I thought to myself, he's right (it's rare but yes, sometimes men can be right)! I should have let everyone know beforehand that there was more to Cookie Day than just cookies. After I gave them the sample cookies, I should have told them about the fudge, and the candy, and the homemade biscottis.
3. I made it all about me.
I went on and on for weeks about Cookie Day and how much I loved it. I talked about my nostalgic memories of Cookie Days past, the boyfriends I brought (and that's how you know if you're serious with someone), and how much my new nephew was going to love Cookie Day. I didn't once ask them what kind of cookies were their favorite or if they had any new recipes I could try. If it were up to my co-workers we would have had a Cookie Day tasting comparison paired with lovely dessert wines. I'm sorry I let you down my friends.
Well, there you have it. My inbound marketing fails with Cookie Day can really be applied to anything you're trying to 'sell' or promote. Make it about them. Think about what your buyer persona would want, what would make them happy, and give them value beforehand. Now I'm off to start planning my Cookie Day 2014 tasting and wine extravaganza.