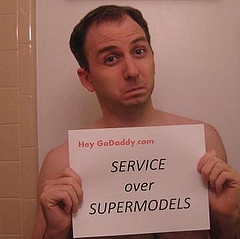 Newsflash! GoDaddy, the web-hosting company who previously used sex to sell server space and website software decided to do something quite dramatic and almost dumbfounding. They decided to actually create ad content focused on their buyer. OMG. Eureka!
Apparently, growth has occured.
---

"We've matured. We've evolved," CMO Barb Rechterman said in a statement. "Our new brand of Super Bowl commercials will make it crystal clear what we do and who we stand for.
Barb - you're a genius. Seriously, Mensa just called; they need you to call them back ASAP.
So what's the new focus for GoDaddy?
---

They focus on what GoDaddy does to help small businesses succeed online; and they show women as smart, successful small-business owners rather than scantily clad sex objects.
Amazing. Hey, let's make an ad with a focus on our target buyer. Let's show how we can help them and bring them value, rather than creating soft porn partially viewed by millions of chicken wing eaters as a break from watching a game where grown men actively try to concuss themselves.

It all makes perfect sense.

Well, at least the part about focusing on buyer personas. What your product or service does to actually benefit folks is always a good thing to highlight. How much exactly, did GoDaddy pay someone to tell them that?

I'm only asking because, well, the folks here at the Lynton Corral have talked about it a few times - here, here, here and here. Just sayin' - ya know.

Anyhoo. So let's take a look at the ad.

Hmm, so not too many scantily clad women but lots of scantily clad men running to a spray tan salon with a female owner. [Shaking head] Just not sure there folks.

Perhaps GoDaddy's second ad - featuring a woman quitting her job on live TV to follow her own entrepreneurial dreams will align more closely with GoDaddy's new advertising focus. We'll just have to wait and see. In the mean time, if GoDaddy truly wants to focus on the small business owner, they may want to borrow a page or two from American Express or Carbonite.

Photo Credit: Jon Garfunkel via Compfight cc