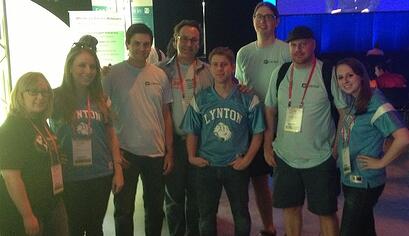 If you're ever around the LyntonWeb office, you would know that I'm a little bit in love with social media. Personally, it's a great way to keep in touch with friends and family, and easily let them know what's going on in your life. When it comes to your business, it's a cost effective way to promote your brand and reach your buyer persona. You're able to share information about your company, provide valuable industry information, and keep up with the latest happenings that are relevant to your target audience.
So let's say you're utilizing HubSpot's new Social Inbox (which can automate posts but still personalize your message), you're providing relevant industry information, and you're speaking to your buyer persona. Yet, there's still something missing. What makes you unique? You know your buyer persona, but does your buyer persona know you?
The world would be just a little bit more fun if companies kicked off their shoes and weren't afraid to show us what really made them unique, their culture, and the diversity of their team. Consumers are more likely to respond and engage with companies on social media that they are familiar with and feel they can connect with on a personal level.
So here are a few quick and easy ways you can humanize your company on social media and not become just another face in the crowd:
When a potential client takes that next step and gives your company a call or sends an email, it will put them at ease to hear or see a familiar name or face. Have fun with your social media, make it unique, and don't forget that it's all about reaching your buyer persona and making them feel comfortable with your company.
Do you have any other comments or suggestions on how your company promotes themselves on social media? Write a comment below or share an example with us!