When customers have a positive experience with a company, they're likely to share their thoughts with an average of nine people. But they'll share thoughts on negative experiences with about 16 people, nearly double the amount.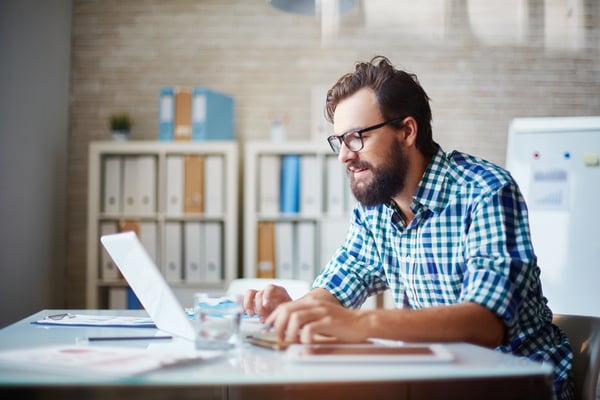 Companies are wise to correct any issues that lead to poor experiences before customers share their negative opinions with the masses, but you won't know what those issues are unless you ask. Customer feedback survey emails are an effective tool for gathering information that can help you craft a positive experience every time.
Why Customer Feedback Matters
In addition to discovering insights on how to improve, customer feedback can help you retain customers by maintaining good standing with them by promptly correcting any issues they may have had. You'll also be able to identify delighted customers and advocates, while using feedback you've gathered as a guide for future decisions and planning.
Read More: Making the Move from Reactive to Proactive Customer Support
Using Email to Gather Feedback
Now that you know why it's important to collect customer feedback, it's time to look at best practices for obtaining it. Email is an efficient means for gathering feedback, particularly if you use it to send out invitations for recipients to click a link to take a customer feedback survey.
Write Concise Email Copy
Start the email with a simple salutation using personalization. Make sure to include pertinent information in the email, such as:
Why the person is receiving the invitation to complete a survey, such as making a recent purchase.
The purpose of the customer feedback survey, which if typically to gather feedback so your company can continuously improve the customer experience.
Realistic time frame for how long the survey will take, whether the survey typically takes 3 minutes or 10.
Survey questions which are short and relevant to the customer's recent interaction or experience.
Include Social Sharing Option
Once customers provide their opinions, give them social sharing options that let them share their feedback if they so choose. Sharing positive feedback on social can function as an automatic referral. Airbnb has had positive results with this tactic, increasing bookings by 25 percent since establishing its referral program.
Send Follow-up Thank You Email
When customers take the time to complete your survey, it's essential to thank them for their effort while ensuring them their feedback will be used in future planning. This applies in all cases, regardless if their feedback was positive or negative.
Continue Reading: The Importance of Engagement in Customer Success
Identify User Preferences
Make it as easy and convenient as possible for customers to share feedback by asking what their preferences are for receiving customer satisfaction surveys in the future. Email tends to be an effective option, but some users may prefer receiving content shared through chat or other communication channels.
Give Them Opportunity to Reply
Include contact details or a link in case customers have any questions or want to raise any concerns above and beyond what they're outlined in the customer feedback survey. Contact details should include a name, email address or phone number of a company representative customers can contact directly.
Use NPS Questions
The Net Promoter Score, or NPS, is a valuable metric for measuring customer satisfaction and loyalty. Use an NPS scale of 1 to 10 to allow customers to assess their satisfaction levels for a specific interaction, overall experience and likelihood of recommending your company to a friend or colleague.
Send Periodically
As opinions can change as customers continue to interact with your business, it's important to send customer feedback survey emails periodically over the course of time. This ensures you have the most current feedback and opinions from your customer base.
Keep it Timely
Customers may be more apt to share their opinions when an experience is fresh in their minds. Trigger customer feedback survey emails to dispatch immediately after service was executed, or shortly after a product was purchased.
Include Sentiment and Satisfaction
Customer satisfaction measures how well your product or services worked for the customers and how likely they would be to recommend to you to others. Sentiment measures how customers feel about your company and its offerings. Both are important measurements for a customer feedback survey.
A/B Test Emails
A/B testing is a valuable tool for comparing certain elements of two versions of your customer survey email to determine which email received a better response rate. A/B test a select portion of your recipients, then choose the winning email to use going forward.
Making customer feedback survey emails a regular part of doing business can help your company continuously improve. Integrating them into your regular routine doesn't have to be a hassle either, as HubSpot Service Hub comes equipped with customer feedback tools you can use to tailor the surveys to your exact needs. Contact LyntonWeb to learn more about what HubSpot Service Hub can do for you.