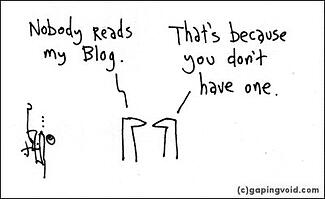 You need a website to keep relevant in the ever evolving and expanding digital age. Your website is more than a brochure of what you do- it's a sales tool, a marketing tool, and it helps support your business goals and growth. Not to mention it will make you look awesome in comparison to the competition when done well. There is no cut and dry layout for a website that will be successful across industries. No navigation bar or footer is created equal.
When I talk to people about what they want included on their website, there is a common conversation. "I want a contact us, about us, navigation bar, and calls to action. But lay off the social media and blogging, our audience doesn't use it."
Stop right there folks, let's lay this myth to rest right here. Every website needs social media and a blog regardless of audience or industry. Here are the top 5 myths I hear:
1. "Blogging isn't going to help sales- no one even reads it."
You know what is completely audience agnostic- search engines! And you know what helps your SEO- valuable content. Gone are the days of link building to gain a better footing with search engines. Google sees blogging as adding relevant content that helps the audience and not you gaming the system with links.
2. "No one would ever read our blog, we have such a boring topic."
Time to think outside of the box on this one. No, not everyone works for a company that sells home care and DIY services, a topic that is pretty darn easy to write about. How to install a bathroom sink? Yeah, I know, that's way easier than industrial generators. But guess what, every customer of every industry has challenges and questions that would provide value and are great blog topics. I recommend talking to the sales team as they have their finger on the client pulse and can provide a healthy list of topics to write about (and would also help them close deals).
3. "Our target audience is 65 year old executives, they don't read blogs, especially ours."
You know who is online reading blogs? The influencers! For every executive you work with, there is a handful of younger digital savvy business professionals tasked with researching you and keeping on top of the industry. Getting the signature on the contract can be supported by providing content aimed at helping these influencers getting the deal signed.
4. "None of our competition is on Facebook, why would we get started with social media?"
The world of social media is bigger than Facebook folks. I don't have enough fingers to count the number of industry LinkedIn pages that are nailing it- generating leads and adding to the bottom line. Look closely at your buyer personas and you'll find a social media channel, likely Linkedin, that they are a part of. The goal is to find a method of growing the reach of your content and how awesome your company is. Twitter may not be valuable to you, but Pinterest may. Look closely at your audience and you'll find them online- promise.
5. "I don't have the time to keep up with blogging and tweeting."
There is a solid chance that you, like everyone in your company, is pretty darn busy to begin with. The good news is there are agencies, blog writers, and tools at hand to make your lives easier. HubSpot, HootSuite, Exact Target…. to name only a few. Investing in your content and expanding your reach will prove its own worth and is part of a long term strategy to bring your company to the top.
Every industry benefits from including blogging and social media in their website strategy. As part of a bigger plan to have a healthy website, solid SEO foundation, and ever growing reach you need to include both on your site and within your business strategy. Think beyond Facebook and the confines of your own industry, and you'll have a rocking website and leads banging down your door.