Corporate websites are full of compelling, relevant, and searchable information - from product descriptions to location pages to blog posts. But many times companies place all of their emphasis on their search engine results rankings and overlook the importance of internal search capabilities within their websites.
The ability to internally search a company's website offers a better overall user experience, critical insights on content, and feedback on optimal site organization. And what's even more important - up to 30% of online website visitors use a site search box when it's offered.
So, how easily can visitors find information on your website? As a site grows more substantial with more resources, content, and blog posts, it becomes harder for visitors to find the content most relevant to them. For example, a financial brokerage firm can post a large amount of content in the form of resource articles, eBooks, white papers, and blog posts on different aspects of the financial industry.
How can customers find the specific topic or resource article they are looking for without scrolling through an entire library of content? The answer is simple. Customers can effortlessly find content on your site using a customizable internal search tool.
Read More: 10 Step Checklist for Your Website Redesign
Benefits of Internal Website Search
When a prospective customer is searching within your website, their intent is different than when they conduct an external Google search. Because they are spending time on your site, they are further along their buyer's journey and offer you clues into what specific product or service they are interested in. Internal website search provides both navigational and informational benefits:
Navigational: Internal website search allows the visitor to go to a particular page immediately they have in mind. It puts the potential customer where they want to be on your website as they look for a specific service, product, or contact and support information. Prospective customers are also more apt to use an internal site search to help them find solutions to their business problems.
Informational: By analyzing how and what visitors are searching for via your internal search tool, you can determine what new content you can offer, update your keyword strategies for organic search or even alter your site structure to present the most searched on topics first. Further, if existing customers are looking for specific information that you don't yet have available, you can create new site pages, blogs, eBooks, and case studies that are targeted to them. Utilizing search analytics will also help pinpoint website navigational or site structure issues. By correcting these issues, customers can get to the content they need most, including key transactional pages like forms and contact pages.
Internal Search Leaders
We're often asked to recommend the best internal search tools. If you have a HubSpot site, their Site Search functionality is great. If you're not on HubSpot, we recommend Custom Search Engine by Google, Swiftype, or Relevanssi for WordPress.
HubSpot
With no extra cost to HubSpot CMS users, HubSpot's Site Search is probably our favorite of these three options. In addition to being free, it's also simple to set up. It's as easy as dragging a module onto a page and then publishing the new template.
Built with marketers in mind, HubSpot's Site Search aims to turn your visitors into engagements, and we know that visitors engage the most when they can easily find what they're looking for. Site search allows your visitors to navigate your website with ease, by indexing all of your HubSpot hosted content and using full-text matching.
HubSpot even offers step-by-step directions for set up in their Knowledge Base.
Custom Search Engine by Google
Another option for internal site search is Custom Search Engine by Google. This is a search bar that can be added to a company's website (HubSpot or WordPress) to help visitors find information without navigating through the entire site. It is based on Google's core search technology and serves up the most relevant search query results within your website.
Many major website development platforms like WordPress have plug-ins and instructions on how to install internal search tools on their websites. Google also offers help to website developers through their custom search tutorial. There are step-by-step instructions to put the code onto the site and on how to enhance and track search results.
While you can customize the color of the links, there isn't much customization beyond that - unless you want to pay a fee. For their free search tools, Google's branding is required, meaning the experience feels like Google's rather than your own brand's. Another con is that because it's a free tool, it contains ads; although you can connect your AdSense account to monetize them. Advertisements, however, can lead to poor user experience for your visitors.
Additionally, one of these ads may even be your competitor's, deterring visitors from your site. Again, if you pay for it, you can remove the placement of these ads. Nonprofits, government agencies, and schools can remove ads for free as well.
Swiftype
Swiftype is another internal search tool that lets you enhance a user's internal search experience by allowing you to filter search results by content type, date, author, pricing, and even synonyms. Swiftype's crawl-based search technology will auto-complete and auto spell correct queries to provide the best content suggestions.
You can also customize search results based on real-time queries. If visitors are searching for a specific financial tip via internal search, a content suggestion can be moved higher in the search results. You can also use it on either a HubSpot or WordPress site. And while it comes with many great features, keep in mind that Swiftype is a paid service.
Relevanssi for WordPress
WordPress comes with some basic search functionality. However, you can easily improve the default search by installing Relevanssi. This plugin replaces the standard search engine with a more advanced version that has excellent features and configurable options. With Relevanssi, you can sort search results in order of relevance, match partial words, find documents matching either one search term or all, search for phrases that have quotes, and create your own custom fields.
A paid version gives you even more advanced functionality like indexing attachment content such as PDFs, improved spelling correction in suggestions, and indexing taxonomy term pages.
Internal Search Best Practices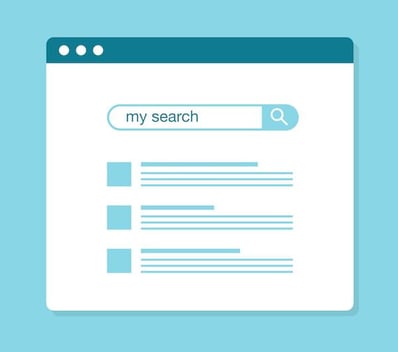 Internal search functionality will add value to your website and make it easier for your customers to find the information they want exactly when they need it. Here are some best practices to consider when adding internal search:
The search bar is usually found at the top of a website page or close to the navigational bar or on a sidebar for blogs. It should be visible and easy to find, no matter what.
The color of the search bar should capture your visitors' attention while fitting into the theme of your site.
The search bar should be noticeable and contain a call to action button. The buttons should use terms like "Go," "Find" or "Search Now."
The internal search tool should be set up to search the entire website, including interior pages, blog posts, landing pages, and forms. You never can be sure what type of information will encourage a prospect to call you or convert to a lead.
On the internal search results page, bold the search query keywords so the user can quickly identify those keywords in the content of your website.
The search bar should utilize auto-complete because it improves the experience for your site visitors and encourages them to continuously look.
Enhance Your Website with an Internal Search Engine
Consider adding an internal search tool to your website during your website redesign, or whenever you'd like to make updates to your site. A site can house a considerable amount of information, and internal search tools make it easy for your prospects, leads and existing customers to find what they are looking for and result in higher conversion rates and more satisfied website visitors.
For help getting started with your internal search engine, reach out to us today.