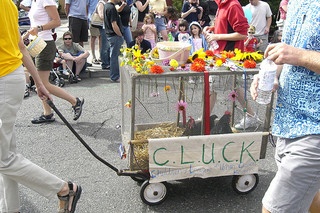 I am a radical urban chicken farmer. Our homeowner's association rules mandate 1. No chickens and 2. No fowl. Seriously! They are so opposed to on-site chicken ownership, that they covered their bases twice. What makes me a true radical is that we built our hens a McMansion (this is Texas after all) which is fully visible from the street.
Our brood numbered four (Violet, Sunflower, Pansy, and Daisy) when a friend asked if we would take a rescue hen. Given our brood is well established, we knew there could be issues; but being wildly optimistic, and loving our friend, Rusty Girl joined our household. As they say, "the road to hell is paved with good intentions" and we failed to anticipate that Rusty Girl would be little more than a chick possessing few defenses, and that the other hens, formerly a mild-mannered lot, would transform instantly into hyenas. By day two, Rusty Girl was housed in the quarantine coop.
Rusty Girl so wants to join the Flower Power Gang and hops into their house at well-timed opportunities. They, however, continue to make their objections known. Recognizing that she was not safe, but having compassion for her plight of a smaller coop, she's allowed to roam free during the day.
Rusty Girl's favorite spot is our sun porch, where she gazes (or so we thought) into the dining room. Last weekend, while sitting outside, she joined us. Peering through the glass door she began to softly coo and sway back and forth. It dawned on us that she was not interested in the dining room, but was gazing at her reflection. Rusty Girl found a friend! A friend who looked like her, swayed like her, and a friend who did not charge in attack. Her friend, a mere illusion, provided her limited support.
Illusions, whether adopted by a chicken such as Rusty Girl, or a business owner, are not solutions. Knowing that I work for a web development company, neighbors occasionally ask my opinion of their new websites. With some, clicking through the new web pages, the thought they bought an illusion crosses my mind.
Good websites are in-depth projects and many individuals ask prospective web companies a single question, "What do you charge?"
When people seek advice before commissioning a site, I suggest that they ask a broad range of questions of the prospective company, a few of which include:
Does the web design company conduct market and competitor research and are their findings incorporated into the design?
Do they analyze site traffic and can future traffic increases be readily accommodated?
Does the company create wireframes for key pages?
How many and what type of revisions are included?
Will there be plans for handling content migration, launch and post-launch?
Beyond basic development, does the company offer custom solutions, inbound marketing and content management services?
With regard to price, specifically what is, and is not, included? How will change orders be handled?
After receiving answers, I then suggest that they investigate if the web company can deliver on their commitments. Is the company established, with a broad range of solution partners? Do they have the talent and resources in place to bring the project to fruition? With the future in mind, are they equipped to respond to their business' changing needs?
By asking solid questions and comparing competing companies' answers, my neighbors are better equipped to discern if the prospective company is selling their businesses an illusion, or, a solution that well serve them both now and in the future.
P.S. We bought Rusty Girl a mirror and continue to protectively integrate her into the brood.