Have you dipped your toes in the social media ocean yet? Are you wondering whether Facebook, Twitter and LinkedIn are worth your time? Social media can seem like a murky proposition. Marketers promise a boatload of benefits, but when it comes right down to it, it's a lot of work.
Not surprisingly, achieving those tantalizing benefits for your dental marketing strategy is going to require an investment of time and resources.
But is it worth it? Absolutely.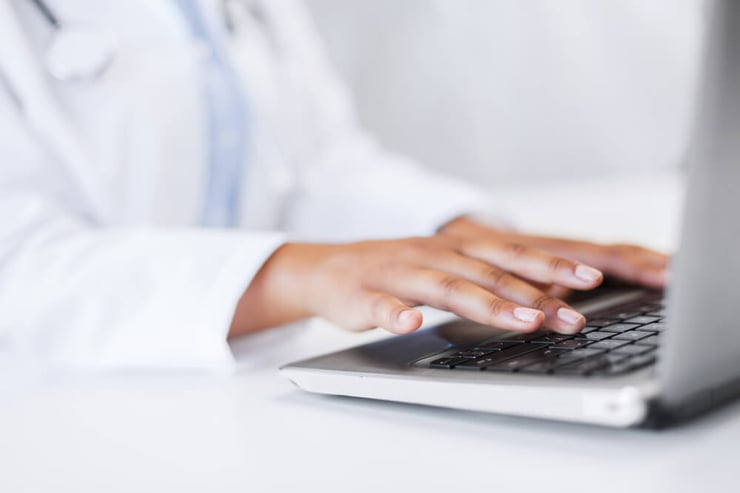 Why Social Media?
Social media is a go-to resource for health information these days. Over 75% of social media users look for health information on social channels, and many of them want to know about a specific practice—your practice.
It's a perfect way to connect with your current patients as well as new prospects. It also gives you the chance to show a more personal side of your practice and your staff.
And the best part?
Social media boosts your visibility with local audiences, putting you right in front of a huge group of potential new patients. With the right content and dental marketing strategy, you can grow your follower list—and your patient roster.
Free Download: Your Guide to Turning Website Visits into Healthy Patients
Which Channels Should You Try?
Think of your social media marketing channels like tools in a toolbox. Each venue—Facebook, Twitter, Instagram, LinkedIn—is intended for a specific purpose. Facebook, for example, is a popular channel for mature audiences. Instagram is more popular among college students. Use Facebook, Twitter and Instagram to reach consumers and LinkedIn to connect with partners or vendors.
The key is to know which audiences you want to reach and where they hang out online. With that knowledge, you'll be able to create content that targets their interests and needs—and that's how you build a social media following.
Best Practices for Your Dental Marketing Strategy
Now that you know who your audience is and where you can find them, it's time to build out your social media strategy. Here are five best practices for content and posting:
Use Patient Personas. Patient personas give you insider knowledge about the interests, goals, concerns and challenges of your ideal patients. Use this information to develop content ideas that grab attention.
Change Up Your Content. Your blog is an excellent resource for quality content. Try posting dental hygiene tips, procedure information, staff spotlights and special offers. But you'll also want to include other kinds of content on your social media channels. Infographics, videos, guest posts, questions and other content will encourage liking and sharing.
Watch Your Tone. Don't get mired in "dental speak" on your social channels. Remember, you're talking to people who want easy-to-understand information about their dental questions. Use an upbeat, conversational tone to encourage interactions.
Post Frequently. If you just post once a week, no one will ever see you. Try to post daily on Facebook and LinkedIn, and more frequently on faster-paced channels. On Twitter, posting 3-5 times every day isn't too much.
Schedule Posts Ahead. All that posting may seem like a major time suck. But the good news is that you don't have to sit in front of the computer posting all day. Use scheduling apps like Hootsuite or Buffer to plan all your posts for the week in one sitting.
3 Steps to Jumpstart Your Dental Marketing Strategy on Social Media
You know your audience. Your strategy is in place. But how do you build momentum? Follow these 3 simple steps:
Set up accounts and designate a social media manager. This person will post for you, interact with followers (liking, sharing, retweeting) and reply to questions.
Create an editorial calendar. Plan your posting schedule ahead of time and get it approved by all stakeholders. Make sure your posts fit within your overall marketing strategy and communicate the right message to the right audience.
Post, monitor, and engage every day. Even if it's just for 5 minutes, daily check-ins keep your posts visible to followers. They also ensure that you don't miss engagement opportunities with patients.
If you're not on social media, you're missing a prime opportunity to put your dental practice in front of the people you most want to reach.
Need help planning your strategy? We're here for you! Talk to one of our healthcare marketing experts about how you can leverage the power of social media for your dental marketing strategy.