B2B inbound marketing can work as effectively for healthcare organizations as it does for other businesses, although the healthcare industry has a set of unique challenges to overcome. These include a notoriously lengthy sales process, the slow pace of the industry in general and adhering to HIPAA and other regulations. You also want to make sure your healthcare inbound marketing is reaching other healthcare organizations, not the patients.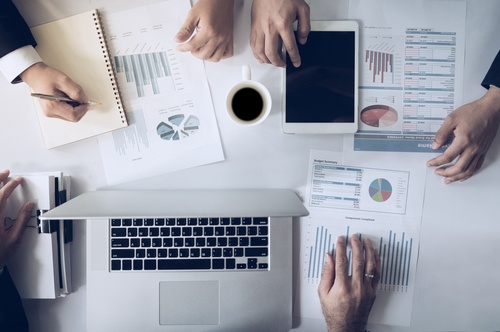 A combination of patience, dedication and thorough understanding of the healthcare sales process and regulations can help keep you on the right track. Boost your inbound success even further by including these seven elements in your healthcare inbound marketing plan.
1. Clear Goals
Inbound marketing can be a bit more complex to measure than other marketing methods, which makes it crucial to set clear goals at the onset of your program. Conversion goals can be a good target to set, with each step a prospect takes on the buyer journey counting as a conversion.
Arrange your content strategy around a smaller set of conversion goals that keep moving the prospect in the direction of becoming a customer. This tactic gives you a solid set of goals to meet, along with benchmarks you can strive to continuously improve.
2. Buyer Personas
Buyer personas are detailed profiles of your different types of customers, and you can develop them by using real customers as your basis. Each persona will have a different set of needs, expectations and frustrations, along with a different set of questions they're likely to ask.
The more detailed your buyer personas, the more accurately you can produce content that meets their needs. This step can also help you overcome the challenge of connecting with other companies instead of patients.
3. Content Marketing Strategy and Content
Content is at the core of all B2B inbound marketing plans, and the most effective content marketing strategies are based on buyer personas. Your content's goal is to provide the relevant information each persona is seeking along every stage of the buyer journey.
Content can range from blog posts to webinars, from videos to downloadable e-books. Supply each persona with the content they want when they want it, and you'll be building brand awareness, trust and a rapport with your audience.
4. A Marketing Automation System
Implementing a marketing automation system can make your healthcare inbound marketing more effective and efficient. Best practices suggest setting up an automated system after you've already established your inbound marketing plan. This way you'll know the type of system that can best meet your needs.
Marketing automation systems make it easy for you to nurture and manage individual leads, with options for automating emails, workflows and other repetitive tasks.
5. Data Management and Analysis
B2B inbound marketing gives you tons of metrics you can use to your advantage to continuously improve. You'll accumulate large amounts of data on conversions, purchases, content performance and your overall marketing efforts. Analyze them. Use them. Pinpoint what's working and what's not, and then make amendments as needed.
See Also: 7 Marketing Metrics that Medical Software Companies Should Watch
6. Strategic Communication
Another crucial aspect of healthcare inbound marketing is deciding how you're going to begin prospect conversations so they're inclined to continue the relationship. Discussions need to be started in a way that's convenient for them and effective for you.
When determining your first point of contact, consider where prospects will be and when they'll be most open to what you have to share. Each persona may require a different method of contact, so keep a variety of media channels, formats and communication styles in mind.
7. Strong Branding
The only way you can successfully broadcast your brand message to the world is if you know what it is yourself. Part of your healthcare inbound marketing strategy is pinpointing the key messages that resonate with your target audience and align with your brand. You can then adjust the messaging for your different personas, distributing the messages through a variety of online channels.
Using these B2B inbound marketing elements within your healthcare marketing plan helps you build a strong foundation for inbound success moving forward. Just don't forget the patience and dedication you'll need to continue your progress.
Like changes in the industry itself, the success of healthcare inbound marketing doesn't happen overnight. It's a slow and steady process, but one that can be well worth your efforts once the results start rolling in.