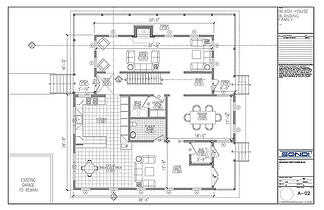 What good marketer doesn't look at his website – or someone else's, for that matter – and think of few things that could be improved or added?
If you've ever have website envy, don't feel bad. We've all had it at one time or another. But with the help of a good web design firm, like LyntonWeb, you can transform your dinky, under-performing homepage into something you'd be proud to show off at your next social function.
I'm sure there are hundreds, if not thousands, of how-to articles on website redesign, so this is not meant as an end-all be-all article on website redesign. But if your situation is similar to ours, then maybe this story and method make a good fit. Below, I'll share our situation; processes and goals to give a little color to the traditional how-to article, and with luck produce something you'll find helpful. Here we go!
Paranet's Background
At the end of 2012, our management team made the decision to fund a website redesign that was sorely overdue. Before I dive into how we executed the project, it's important that you understand the background so let me explain a little about the company's history.
Paranet provides four fairly unique services whose genesis was from an acquisition. They include managed IT services; IT infrastructure consulting; Customer Relationship Management and Business Intelligence systems integration; and strategic IT staffing. The Paranet brand has been around since the early 1990s, and in 2012 the original brand logo and colors were still being used. The acquisitions also left us with multiple web domains, which we wanted to consolidate. Therefore, we had some non-traditional goals and requirements for the website redesign.
Now that you have a little background let's get into the 5 phases of our website redesign.
Phase 1 – Planning and Internal Preparation
Like many things in life, proper planning prevents poor performance. It also helps alleviate problems down the line and makes projects smoother. In a redesign, it acts as a road map to guide the organization when you get off schedule or distracted by new requirement requests. I found there were three major tasks in the planning phase of the project.
Identify stakeholders: Because of our multiple acquisitions, we had a lot of stakeholders in the redesign, but I would say having multiple stakeholders is more the rule than the exception. Some examples of common stakeholders and the issues that concern them include:

IT Department: What platform are we hosting on? Does this integrate with other systems? How will administration work? User roles? Permissions?
Marketing: Do we have control to change the website, add new content and change existing content easily and dynamically?
Operations: Customer portals? Support organization email, phone, and form communication? Proprietary applications or integrations that need to run and display properly on the new site.
Sales: More qualified leads, but for which division, service or solution?
Management: Will this design last? Is this platform going to scale with us over the next three to five years? How are we positioned vs. our competition?

Request input from stakeholders on their goals: I'd recommend giving yourself two weeks to gather the input from all the stakeholders. Sending out regular email reminders and stopping by their office is highly recommended. You'll probably get a variety of responses that include things they don't want, things they want and other websites they like.

You might get this feedback in varying levels of detail such as email, in the hallway or via a direct report. You'll have to be flexible and assertive in this stage, but it's worth making everyone feel included upfront and giving them the opportunity to say their peace. Otherwise, their concerns might pop up in the middle of development, which can be a nightmare.
Assemble your list and prioritize: Once you have everyone's emails, handwritten notes, hallway talk, and second-hand accounts of what they want out of the website redesign, you'll have the arduous process of assembling that information and objectively prioritizing it.

Now, I just want to say that objectively should not imply consensus or popular vote. Some goals or objectives will most likely be inappropriate, impossible and unreasonable. Objectively means weighing the goals against what is possible, reasonable and best for the company. Our top three came down to:

One brand for all the different companies.
Ability to change the home page calls to action and add/remove content.
Increase sales.
Phase 2 – Finding the right partner
This was probably my least favorite part of the entire project and, surprisingly, more of a challenge than I would have thought. Paranet's website was already on the HubSpot platform, so on of my key selection criteria was experience with website redesigns on the HubSpot platform. I did some research on the web but found my best partner leads in the HubSpot marketplace.
Here is what I looked for in a partner:
A structured and clean approach to the redesign process.
Competitive pricing.
Strong portfolio of client work, case studies, and/or references.
Here is the process I followed for choosing a partner:
Vet five or six partners.
Request proposals from the top three.
Review their approaches.
Compare their pricing.
Check case studies and references.
Select a winner.
Two things I learned from the vendor selection process

I was surprised to find that even though the selection process was painful, I benefited a lot by going through the process of being a B2B customer. Two things really stuck with me about the research and selection process a prospect goes through.
First, I learned that relevant buying information should be easy to find on the site. I was surprised how difficult it was to find case studies and other bottom of funnel information on the sites of potential redesign partners. I found myself digging through sites trying to find information that might persuade me to complete a form or pick up the phone.
The second big lesson is that nobody, even your mother, wants to be your first customer. To put it simply, you should include examples of your work (case studies and so on) and make them easy to find. A hero banner of logos isn't enough, buyers are more sophisticated than ever and they will want to see proof of your work quality.
Phase 3 – The redesign process
Once you select your design partner, you will be more than ready to get started on the actual redesign. I could focus on the technical phases of the redesign process, but I thought I would include both the client's perspective (Paranet) and the partner's (LyntonWeb) technical timeline.
Here are the redesign activities/objectives from a client's perspective:
Kickoff Call
Goal Review
Design Discussion
Project Plan Reviews
Wire Frame Reviews
Creative Page Reviews
A project plan will include, as LyntonWeb did, the following phases:
Discovery
Project management
User Interface and Design
Development
Content Migration
Quality Assurance
Client Deployment and Testing
Go Live
Phase 4 – Going live with your new website design
This section of the redesign process will be more tailored to HubSpot customers because that was the platform we executed on. Some of the tools I mention may not be relevant but the steps, no matter how you do them, are important.
Site Map Structure (Old to New)
If you're doing a redesign, then you'll probably be making changes to your sitemap. I'd highly recommend using a spreadsheet to map your before and after URLs. But before you do that, you'll have to determine what you want your new site structure to be, and then map your existing structure. Both of these tasks should have been completed by your partner with input from you and your team.
Next you'll want to create a simple Excel workbook with two columns labled "before" and "after." There, you will account for all the URLs that are changing and their new destinations. HubSpot does a great job handling URL mapping and any changes you make to the page. A 301 redirect is automatically set up by the HubSpot CMS.
What a url migration template might look like: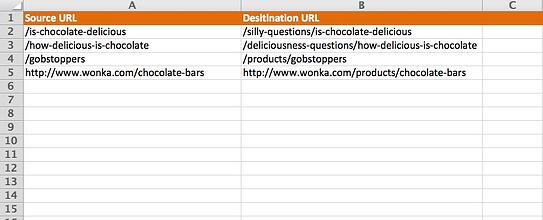 Content Migration (Based on new sitemap)
Next will be the actual addition of new pages or the migration of existing content. You can do this manually (for a few pages) or use HubSpot's URL mapping tool for bulk changes. Either way, this setup is critical because messing up your 301 redirects can have huge implications for your search-engine rankings.
Content Element Adds/Changes
There might be some minor content changes you need to make depending on your design and on how your pages were set up before. We had some minor changes that had to be made in the page properties regarding layouts, and content modules needed to be added or deleted to have the style sheets apply. However, it was done relativity quickly for the number of pages we have on our site. A big reason it was so smooth for us was because of HubSpot's ease of use for content management and manipulation.
Phase 5 – Seeing is believing
This is the end goal, when you see all your hard work come together and you hope that it yields positive results. If you followed the approach I've described above, then your investments will produce some awesome results.
Paranet achieved its goals:
One Brand: Our web redesign was just the beginning. Shortly after we went live, we used the new website look & feel as the basis for a complete overhaul of our digital and print assets across the business units.
More control over content: Before, I couldn't change any of the home page elements without the help of a skilled HTML/CSS professional. Now I can use a combination of simple HTML and a WYSIWYG GUI editor to make all the changes I want or need.
Increased revenue: The first full month after our website redesign went live, we had our best month ever in terms of leads and gross website traffic. Since then, we've generated millions in pipeline and revenue through our website and inbound marketing.
Bringing it all together
As a quick recap, the steps we followed in our website redesign included:
Plan before you get started.
Find the right partner(s).
The redesign process.
Going live.
Results and review.
If you've made it this far into the article, then you're probably actively considering a redesign. Take this bit of advice: Just as there is no one right way to redesign your website, there also are a million wrong ways to do it. You'll need to put in the time internally to make sure you have a great finished product. Even the most skilled and competent design firm can't read your team's mind. Set expectations early and often and over-communicate.
Before you go
Long gone are the days of set it and forget it with your website. I'm not sure that was ever true. The shift away from the client-server model of the past few decades to cloud computing and mobile devices means that you'll need to design your site for multiple devices, using responsive design. Read this for a quick intro to responsive design and key reasons you should be using it.
About the Author
As Director of Marketing and Channel Strategy for Paranet Solutions, Quinn oversees Paranet's inbound marketing and strategic partnerships to help drive revenue through quality lead generation and thought leadership. In his free time he enjoys P90X, being a Longhorn and spending time with family and friends.
Follow him @qdevery.
**Full Disclosure – We did select LyntonWeb as our web redesign partner of choice and we still work together on our website changes and enhancements.
Photo Credit: CSondi via Compfight cc