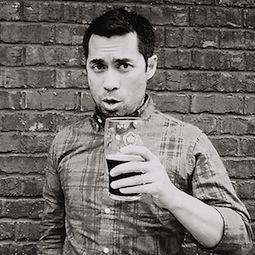 See that guy in the pic? That's Rob - our graphic designer extraordinaire. He's really, really good. He wins awards. Lots of them. But even with all his amazing skills he's only as good as the input he receives from you. Once you begin to redesign your website, a large part of the redesign process involves working with a graphic designer. Your designer has a huge role in creating a new, fresh website that is both user-friendly and focused on your brand's corporate identity. One way to ensure that happens is by making your designer's job as smooth as possible with the following best practices.
Showcase Inspiration Websites
Is there a website – or six – that really captures your attention and fuels your creative vibes? By all means, let your graphic designer know. Then let the designer know why each of the sites is on your inspiration list.
What stands out?
What really works?
What would you like to see on your own site?
While you don't want to directly copy a website, you can certainly use inspirational sites as references and jumping-off points for your own.
Discuss Your Competitors' Websites
Take a look at your competitors' websites to see what they're up to. You're again not out to make a direct replication of their sites, but rather to check out what works, what doesn't and how you can one-up them with your own redesign. Pay extra attention to website sections or information they may have that you may be lacking, or items they have that you never want to see on your site in a million years.
Stress What You Don't Want
In addition to pointing out elements on your competitors' sites you don't like, make sure you designer knows what you don't like in general. One of the most frequently overlooked topics is what you don't want to see on your website. Unwanted elements can include things like:
Certain colors or color combinations
Rotating banners, rotating anything
Specific menu types, such as drop-downs or hamburger menus
Flashing things, auto-play videos, distracting animation
The list goes on and on. Make sure your list is shared upfront with your designer so there's no chance any of your least favorite elements showing up on your redesign.
Provide Your Brand Assets
Whether your brand identity guidelines are seven sentences or 70 pages long, make sure you share them with your designer. Your brand identity guidelines should clear up any misconceptions about what can and cannot be done with regard to your logo, colors, font and other style elements. Also give your designer access to ready made logos and color scheme libraries so he or she can quickly and easily add both to your revamped site.
Grant Creative Range
While you do want to provide a solid idea of what you want and don't want on your website, you don't want to micromanage every single aspect down to tiniest detail. Well, even if you do, you're robbing the designer of the chance to do what designers do best, which is bring your website to life.
A truly good designer will follow your guidelines while incorporating current design trends and serving up an amazing user experience for visitors. Give them room to create. Give them room to breathe.
Related: 5 Effective Inbound Web Design Tips for Your New Website [Infographic]
Give Specific Feedback
Once you see the initial design concept, spend some time with it. Write down specific thoughts, ideas or changes you might want to see. Being very specific with your input, and even explaining why you feel a certain way, can help your designer most effectively produce a site that makes you happy.
Feel free to share the initial design concept with other team members, but don't get bogged down with too much input and too many options. You want to keep the entire process as simple and streamlined as possible. If too many cooks are weighing in on the broth, so to speak, trust your own opinion overall.
Limit Rounds of Revisions
One of the best things about websites is that they are constantly changing and evolving. No website will be perfect and, even if it's near-perfect, it's still going to need some changes as time moves on. You don't want to spend months trying to achieve this near-perfect state with countless revisions on a design concept.
A more efficient route is to get your new website live, and then begin a Growth Driven Design approach. This involves testing your website redesign with user feedback and making revisions as needed.
Communication is a huge key to success when working with a graphic designer on website redesign, with the goal of ensuring both you and your designer are consistently on the same page. Add a bit of creative freedom, specific input and limited revisions to the mix, and you're well on your way to a website redesign that works for you, your company and, most importantly, the audience you're trying to reach.