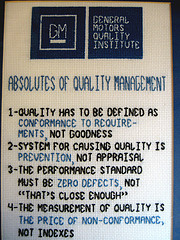 A no-brainer, right? When considering your content, design, architecture, organization and functionality many clients ask themselves where to start. Collecting basic company information helps bring the purpose of a website redesign into focus. But, how do you really use information like a mission statement in the inbound website redesign process? Here are a few suggestions.
Personas
Any audiences you include in your mission statement should be considered primary personas. This means, all decisions should be made through their eyes. In the discovery process, you'll want to expand upon anyone mentioned in the mission statement so everyone is on the same page.
Who are they?
What do they think about your company?
How would they want to interact with you online?
What are their biggest complaints when interacting with you?
Content
Your mission statement should be central to your content strategy. What value did you promise to bring to your customers, shareholders, community? Your content strategy is your opportunity to put a plan in place to fulfill that promise. The fun and exciting part is that the better you are with this task, the more the search engines will reward you. Be sure to make sure your mission statement fulfills the need across:
Social media
Advanced content (where applicable - downloadable content)
Website pages, notifications
Online ads
Distributed content (press)
Emails
Goals
Sometimes, it's hard to define strict goals for your inbound website redesign if there are many stakeholders. The mission statement is a great place for higher level goals. Are there metrics you can or already do define to measure success against your mission statement? These metrics should be included in your goals for the website redesign.
If you need help applying your mission statement in your own inbound website redesign, we're here to help. Just let us know.
Photo Credit: Ken Starzer via Compfight cc