Acquiring leads is the first step in the entire marketing process, and you can get them more quickly and easily with the HubSpot lead flows tool. Available for free to all HubSpot Marketing customers, the lead flows tool serves up a way to create customized lead capture forms for any website. You can place the forms wherever you feel they'll work best, with no coding or developer required.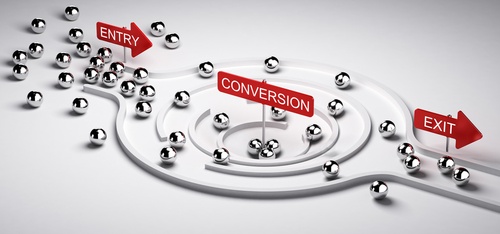 Lead capture forms can increase conversions dramatically, as long as they're strategically used in a way that enhances, rather than disrupts, your website visitor's experience. The most effective lead capture forms will give your visitors the content they want while giving you an instant conversion. They also let you see what your visitors are doing, what offers are getting the most responses and how to best interact with your prospects. These tips show you how to move forward with HubSpot lead flows.
Activate the Lead Flow Tool
To activate the tool, go to the Products & Add-on screen in HubSpot, find the Lead Flows option, and then click "activate." You'll then see the Lead Flows option displayed under your Content menu.
Select the Format for Your Lead Flows
Choosing your lead flows format is the first step, and you have three different options.
Pop-up box: As the boldest lead flow format, pop-up boxes work well for increasing email lists as well as promoting your most important and valuable content.
Dropdown banner: These helpful lead flows are ideal for promoting sales, webinars and other time-sensitive offers.
Slide-in box (either from the left or right): Friendly and understated, slide-in boxes work well for promoting blog content.
Choose the format based on what you're promoting as well as the page on which the form will appear. Think about what the visitor may be seeking when he or she is on that particular page.
All three formats can work for blog subscription lists, with pop-up boxes known to increase blog subscription conversions by more than 1,375 percent.
Create Your Call-Out
The lead flow's call-out refers to the text you write to prompt the viewer to click and expand the lead capture form. Call-outs tend to work best when they match the content that's on the page, with an offer that's relevant to what the visitor is viewing.
Optimum call-outs will be brief yet creative. They must also be compelling enough to get visitors to trade their contact information for whatever you're offering. Once you've written the main call-out text, also write text that appears on the call-out button where people click to sign up for your lead flow.
Read More: Need Quality Leads? Here's How to Get Them
Customize with Image and Stylings
Make your offer even more enticing with your choice of image and colors. Use eye-catching imagery to draw attention to the offer. You can add an image to both the call-out portion and form portion of your lead flow.
While the inbound marketing software automatically chooses colors optimized for conversions, you can adjust colors to contrast with the page or align with your brand. Choose from the different theme colors by clicking on the default color bubbles, or customize the colors using the gradient or hex value tools.
Adjust Form Fields as Needed
The form portion of your lead flow is where visitors enter their information. The forms are set up to capture a visitor's name and email address, and you can add other fields and questions as desired.
Keep in mind that lead flows are meant as a quick supplement, not a replacement, for your more comprehensive lead capture forms. That means you want to keep the lead flows short, sweet and requiring minimal information.
Choose When and Where to Display Lead Flow
Pick the page where you want the lead flow to show, along with when the lead flow should be activated. You can simply insert the URL of a page if that page is hosted by HubSpot or already has a HubSpot tracking code installed.
Triggering the lead flow based on user experience can be highly effective, with options that include:
50 percent page scroll, or when the user is halfway down the page
Time elapse, based on a set amount of time after the user lands on the page
Exit intent, or when the user is about to leave the page
See Also: Measuring Your Lead Nurturing Campaign's Success
Follow Up
HubSpot lead flows' Follow Up tab is where you'll craft the follow-up emails your visitors get after they submit the form. Adjust the sender, subject, email body and email footer to ensure your visitor is compelled to continue engaging with your brand.
Adding lead capture forms to your website may seem like a small step, but they can net huge results. The HubSpot lead flows tool is just one more way that inbound marketing software can make your marketing efforts easier, faster and much more effective.