Nearly all marketers can attest to the power of email as a lead and customer nurturing tactic. And there's no doubt many – if not all – marketing teams have regular newsletters and other standard emails in their tool belt. While these kinds of lead nurture campaigns are essential, there are others that are sometimes easy to overlook.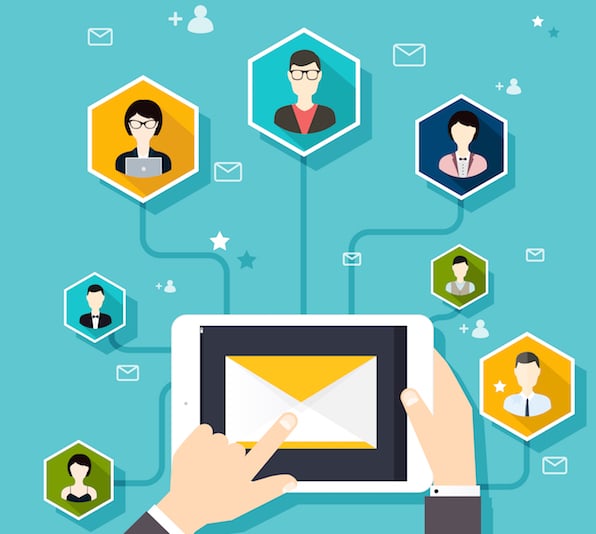 These lead nurturing campaigns that you may not be utilizing, like post-purchase and upselling, have the potential to drive quick, easy, and real results for your company.
Welcome Campaign
If you walk into a boutique store looking to find something specific, you'd expect the sales associate to greet you. That same idea should extend to your email subscribers. After all, if someone signs up for one of your email newsletters or you get a new customer, it's only polite to introduce them to whatever they signed up for, right?
That's where a welcome campaign comes in. This is the first step in building a relationship with a lead or customer and your chance to introduce the company, talk about what they signed up for, and showcase what makes you stand out amongst competitors. According to research done by Experian, a welcome email has an average open rate of 57.8% and an average click-through rate of 14.4%. Comparing that to a standard email's 14.6% open rate, and 2.7% click-through rate, it would be almost silly not to utilize welcome emails.
---

However, the longer you wait to send your welcome email, the lower these rates go down. In fact, if you take too long your users may forget they signed up for something and mark you as spam.
A series of these emails help educate your new email subscriber on your company and what they can expect from you. Examples of welcome campaigns include:
When a person signs up for your blog, you can send them an email welcoming them and detailing your blog. Then you can help catch them up to speed by sending the most popular posts for a few weeks. This method, known as "blog onboarding," basically lets you put your best foot forward by sending your strongest content first. When they complete this onboarding, you can begin sending them your most recent posts by adding them to your regular email workflow.
If they signed up for your weekly or monthly newsletter, you could send a series of featured case studies, client testimonials, or short videos.
For signing up for a free trial, you can welcome them by offering a new level of free service or discount on a future product in a series of emails.
Abandoned Cart
A study done by Barilliance reveals cart abandonment is an issue for both B2C and B2B clients, with almost 80% of shoppers leaving a site without finishing their purchase last year. Whether they intentionally didn't complete their checkout or forgot, that can seem bleak. But you can turn those abandoned carts into recovered ones with a nurturing email campaign.
Re-engaging with these shoppers begins with a simple, automated email that sends whenever a user leaves something unpurchased in their online shopping cart. It can be as unassuming as alerting them they're not finished or sending them reviews and case studies about that product to prove its worth. Other emails you can send in this type of campaign include:
Nudging them to finish buying by offering free shipping
Showing them the value and use of their purchase
A discount on the product itself or a future purchase (this tactic can help make them repeat buyers)
Post-Purchase
A post-purchase nurturing campaign helps turn your customers into promoters. Because when you follow-up with your customers after a purchase, you're showing them you appreciate them, which helps create brand loyalty. And truthfully, they probably didn't spend money on your service to never hear from you again. With that notion, you can expect to see real results with a post-purchase email campaign. But it only truly works if you provide some value to them in these emails.
For example, your post-purchase campaign can include a series of emails such as:
Thanking them for their purchase along with a receipt (email receipts open rates average at 70.9%)
Suggesting products related to the one they purchased they may find useful
Providing case studies or success stories of other clients who bought the same offer
Asking if they need any help using your product or service, and reminding them they can always reach out
Asking if they have any suggestions on how to make the purchase process smoother
Inviting them to your customer loyalty program
Suggesting they subscribe to your regular email newsletter, so they do not miss out on future opportunities
Upselling or Cross-Selling
Like with the post-purchase campaign, an upsell, or cross-selling campaign operates on the notion that communication with your customers should never stop once they buy something. This is particularly true if you sell various products or services – especially if any of them work in tandem to deliver extreme value.
---

More importantly, statistics show existing customers are 9x more likely to convert and spend, on average, 500% more than new customers. So, why wouldn't you try your luck with this type of campaign?
Emails to use in these types of nurturing campaigns are:
Recommendations for similar products
Suggestions for auxiliary products that will enhance what they already have
Examples of how an advanced or paid version of something they've already bought will propel their business forward (this is useful if you have freemium or low-cost options)
Re-Engagement
Before embarking on a re-engagement campaign, you must determine what qualifies as an inactive contact for your business. Is it someone who hasn't opened an email in three months? Six months? More often than not, inactive contacts are generally those who haven't interacted with you for a longer length of time.
Once you've determined who's inactive, you can start reawakening them through a sequence of emails. And, if at the end, they end up being real duds, you can remove them from your database and t your lists and data will be cleaner!
Choose from re-engagement email strategies such as:
Showing them what they're missing, like links to the most viewed blogs or best downloads
Offering them something special like a discount or free trial
Asking them if they want to remain on your list or not
What Else Should I Know?
When it comes to nurturing campaigns, your content and strategy options are endless. Focus on picking the campaigns that fit with your business. And don't forget that it's a multi-step approach and to stay true to your brand's personality.
If you would like help coming up with any ideas or technical support setting them up, reach out to us today!