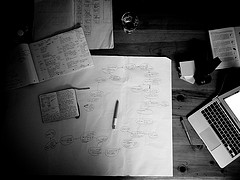 If you're reading this and preparing to move your website or parts of your website to the HubSpot COS (Content Optimization System), you're in for a treat! This latest release from HubSpot allows for greater control over templates, a responsive framework and personalization for your website visitors. To take full advantage of the platform you need to start planning now. Here are a few steps that will get you started.
Build Your Team
Very similar to what I suggested in the 2014 website redesign planning post , your team is going to make or break your project. Discuss your intentions with these individuals and get their thoughts and concerns early.
Project sponsor – someone owns the process and time line
IT - someone who owns the domain DNS management
Budget owner – this could be your owner or accounting
Content owners – persons responsible for adding content, creating new pages currently
If you have a designer and developer internally, consider getting them COS certified early so they understand the individual components of the platform.
Audit Your Site
The more specific you can get with what you want to see with the migration, the more successful you'll be.
Starting at a very high level, think about your company domains and subdomains. Which of these do you want to move over? Talk with your IT department about where the DNS is managed and make sure you have full control to re-point these domain properties when you're ready to launch. If you're moving multiple properties, consider if they should be consolidated under one domain using a consistent template.
While we're talking about consolidation, now is the time to check in and see if your website promotes the content strategy that will lead to long term success. Does your content help you meet your inbound marketing goals? Is it helpful to your users? What do you want to keep? What do you want to get rid of? What do you want to re-think in the future?
Finally, take a look at the functionality of your current website. Again, this is the time to consider what functions contribute to business success. Think about how your new website will represent items like account logins, flash files, dynamically generated content, iframes, etc.
Budget and Timeline
Simply put, document how much budget and the time line you're able to agree to in order to ensure business success in 2014. Consider the impact of using internal vs. external resources in your analysis.
Review Your Options
Currently there are three options to consider for your migration:
1) Migrate on your own now
2) Work with HubSpot automated migration in Q1 2014
3) Work with a COS certified agency
Or use a combination of these options based on what you need to accomplish.
Keep an eye out for more HubSpot COS posts from our team. Subscribe to our blog and don't miss a beat!
Photo Credit: noodlepie via Compfight cc