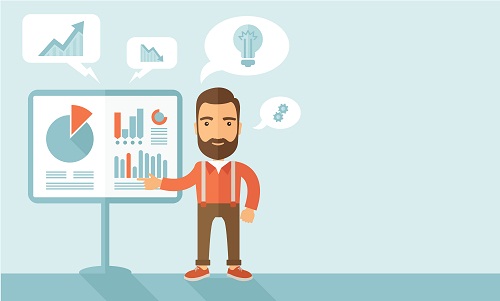 Growth driven design (GDD) can keep your website fresh, relevant and optimized – as long as it's working. And the only way to know if the continuous website changes at the core of GDD are performing at optimum levels is through regular reports. Routine GDD reporting is par for the course to ultimate success, particularly when you regularly review these six key metrics.
Site Bounce Rate
Your site's bounce rate is the percentage of sessions where a visitor left your site after viewing only the single page on which they initially landed. A high bounce rate can stem from poor site design, website usability challenges or even engagement issues. If a visitor is not immediately captivated or intrigued, he may quickly move to another site that may do the trick. In 2000, the average human attention span was 12 seconds, in 2013 it was only 8 seconds (1 second shorter than a goldfish!). Clearly, goldfish should now be involved in your website user testing - kidding!
Time Spent on Site
The amount of time a visitor spends on your site can be a solid indication that you're doing the right thing – or not. The longer a user hangs around, the more engaging your site is likely to be and the more likely it will be to have a visitor convert to a lead. Content contributes to intrigue and engagement, but so does your website's organization and design. Start by making sure your website addresses the relevant business problem at hand. How do you solve a particular business problem or pain point? Here's a simple example - Dollar Shave Club. What problem do they solve? A great shave for a few bucks a month. No commitment. No fees. No BS. It's right they when you land on their site - above the fold. A key pain point - high priced razors.
Average Page Views per Session
This metric indicates the average number of pages viewed during a session on your site. The more pages an average user views, the more likely your site is doing something right. Like time spent on site, average page views can give you an indication of user satisfaction. If users are enjoying your site, they're typically eager to explore more of it. If Time Spent on Site and Average Pages Views per Session metrics are low and your site is optimized for mobile be sure your content is speaking to the correct buyer personas and answering question these personas might ask.
Google Analytics User Flow
The Google Analytics Users Flow report gives you a visual representation of the different paths users took through your site. You're first alerted to the source that led a visitor to your site, followed by the various pages they visited until their exit. Tracking a visitor's path through your site can show you which sources and pages are performing well – and which pages may prompt a hasty exit.
Landing Page Conversions
Landing pages capture a visitor's information through a form provided on the landing page. They typically contain only explanatory copy and a form to capture info, keeping visitors focused on what they'll receive in return for filling out the form. Newly converted leads might receive a guide, how-to checklist or ebook in exchange for contact information. A conversion event occurs when a visitor fills out the form, with a high amount of landing page conversions indicating a highly effective landing page.
Call to Action Conversions
Call to Action conversions tally up the number of conversion events that occurred as a result of your call to action (CTA). You may be asking people to subscribe to your mailing list, visit a landing page for a free download or take any other type of action related to your overall goal. The higher your CTA conversion rates, the more effective your CTAs.
Keeping an eye on these six metrics gives you incredibly detailed insights on how your GDD strategy is performing. Weak results help you pinpoint specific areas that need improvement, while strong results show you strategies that can be duplicated in other areas to achieve similarly high levels of success.