Clients are always asking us for advice on email newsletters:
All great questions, and we will help you answer them all.
---
1. How often should I send out an email newsletter?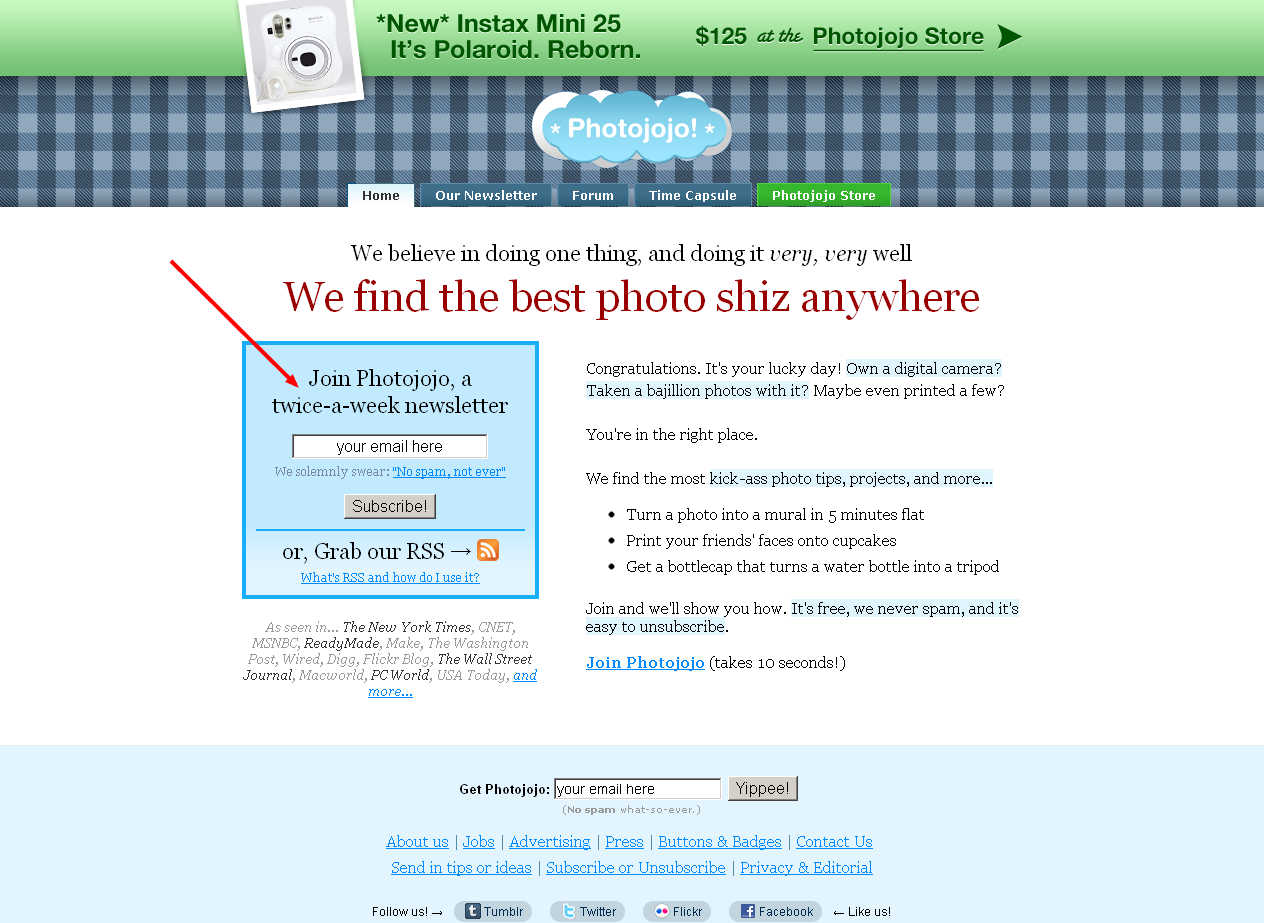 The frequency of your email newsletter depends on a few factors. How often do you blog, send out press releases, roll out new products/updates etc.? If you answered "daily" to any of those questions, then you may want to send out a weekly email newsletter.
If you answered weekly, bi-weekly or monthly to the question, you'd probably be best suited to send out a bi-weekly or monthly email newsletter.
How often will you be emailing them?
Weekly?
Monthly?
Sporadically?
The best way for you to build a loyal and strong email newsletter subscriber list is to be honest and upfront. Photojojo, an online store that sells digital camera accessories, is upfront and center with its subscription box. You know before you put your email address in that you will be receiving two emails a week from them -- total transparency.
---
2. What the heck should my email newsletter include?
The purpose of your email newsletter should be to inform your subscribers to the new and exciting things you are doing. You can and should use your email newsletter to highlight your best or most popular new blog posts or new services you're offering.
The most important thing that your email newsletter does is it builds the relationship between you and your customers. When a need comes up, you want your customers to think of you and your product(s) first.
However, your email newsletter should not be self-promotional only. If you were out on a first date, and the other person talked the whole night about him or herself, you'd probably opt-out of future dates. The same is true with your email newsletter subscribers.
Since you are in business, you obviously offer a solution to a problem that people have. Whether that problem is a customizable customer relationship management tool for real estate agents or designer clothes for dogs (I hope this isn't the case), you have the solutions, and your newsletter should get that point across.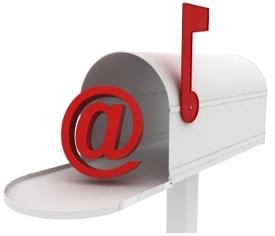 Let's say for example you sell organic pasta. Your email newsletters could include recipes that use your products or could be combined with your products. You could include a recipe for a delicious organic sauce to pair with your pasta to make a tasty dinner or maybe tips on how to prepare a romantic dinner for two at home. What things can you offer to your customers to make your products even better?
Just like the frequency of emailing your subscribers, you need to be clear and upfront about what your subscribers are signing up for:
Blog updates?
News on products or events?
Tips and resources?
Special offers?
All of these would be great for a newsletter, but people who only want coupons and updates about sales may get upset and unsubscribe from your list if you email them every week about your blog. This is where lists come in handy. You can make lists for newsletter subscribers, coupon subscribers, etc.
---
3. How can I improve open and click-through rates?
Really, the bigger question we get is: what is a good open rate for email newsletters? The general accepted open rate of email newsletters is 20% of your total list. If you are in the 20% range, congratulations -- you're doing great!
But if you're not in that 20% range, how can you improve?
>> Your Newsletter Subject Line
This is where the newsletter subject line comes in. What works best? This all depends on your business and who your subscribers are. What is the hook that will make your subscribers open an email? There are two schools of thought here. Some email marketers say that sexy compelling subject lines work best while others say that your subject line should state exactly what is inside the email. You can, and should, try to combine both.
Most robust email services will allow you perform testing on email subjects where you can select two different subject lines and send each of them to a certain percentage of your distribution list, so you can see how certain styles perform.
>> Your Content
What about increasing the click-through rates (CTR)? As always, content is king. Just like in Field of Dreams, if you write great content, people will come.
Create the compelling content that people are looking for. Using the example above of the organic pasta website, make sure you link from your content to a specific type of pasta in your store that works the best for the recipe. You can also link your subscriber to a landing page that lists the benefits of organic food or to a downloadable recipe book using all of your products.
This part of the process involves some trial and error. You can see in your email newsletter service stats for every email newsletter you send out. Which emails performed the best? Which ones missed the mark?
>> Your Competitors
Another thing that can help you is to look at what your competitors are doing. What does their newsletter have in it? Sign up for their updates (do it from your personal email address and home computer as most robust email services can block IPs of competitors). Is what they are doing something that you can improve on or learn from? Use it!
In the same vein, take a look at the big guys. What are major department or big box stores doing? Obviously these will be retail-focused, but they will give you a look at what the guys with endless resources and budgets are doing. How can you make this work for you?
Have Patience, Practice, and Test, Test, Test!
One last thing to chew on: like any type of relationship-building project, creating a powerful email newsletter takes time. You will not have a list of subscribers in the thousands with a 20% open rate overnight. Don't let this get you down. People will come, Ray.