Friday Fails: How to Not Send Crappy Self Promoting Emails
---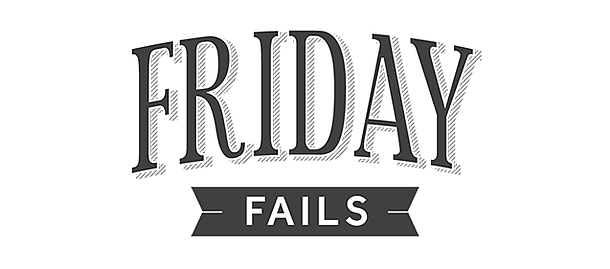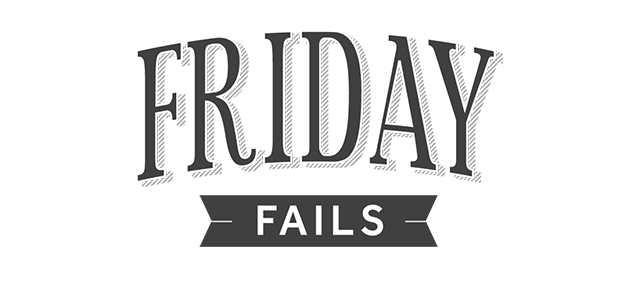 Self promotion can be a good thing, especially if you're an inbound marketer. Getting to the heart of how awesome you are and shouting it from the rooftops is great, really. Reaching out to your peers to offer your help with blogging, SEO, or design can be a great way to grow your own portfolio while showcasing your expertise.
But when self promotion is done incorrectly, it's the same thing as sending a canned sales email. It alienates your audience and gets your email sent straight to the trash bin.
Transcript:
Happy Friday inbounders! Welcome to another edition of Friday Fails with LyntonWeb. I'm Bridget and today I want to talk about bad sales emails that are self promoting yet totally useless to the person you are sending them to.
Let me get this off my chest. I get a lot of these emails, this is a selection of emails that I receive on a weekly bases just to give you guys an idea of what not to do, and then how to fix it.
The first email is what I'd like to call the "Short and Sweet Sales Email."
Which is one trying to slip it in under the radar like we're friends and that I wont notice that it's actually just an empty email. In this short and sweet email I get to know literally nothing about the blogger who is trying to reach out to me. She says literally nothing about who I am, not even using my first name or acknowledging the company that I work for.
So basically I read it and it gets me no content of what she's actually looking to do and it says "Hey guess what? I didn't even take the time of day to look you up or see what you guys do at LyntonWeb."

So how do you fix this email?
Why don't you look us up online?
Make sure you know that bridget.mohan@lyntonweb.com is linked to LyntonWeb and actually address the company that I do work for.
Look at some of the content that I've put out there and maybe comment on my blog posts.
Look me up on LinkedIn! Like some of my comments or content, or reach out to me directly.
The key here is to make sure that you are showing me that you know who were are and that you actually have content you can help us with. Just a side note, we do take guest bloggers on occasion. We like to have our audience learn more about inbound marketing and about inbound websites. We want to make sure we are always giving everyone the right kinds of information and educating our own audience.
So if you feel that you can actually help, make sure you're providing me with relevant information as a real human to a real human. Don't just send me a short and sweet canned email.
The second email I call "Let me bribe you to publish my content."
Offering me a $30 small bribe to publish your content (while a nice gesture) is not going to get you on our blog. This is another example of how you need to look us up and see what the heck we do.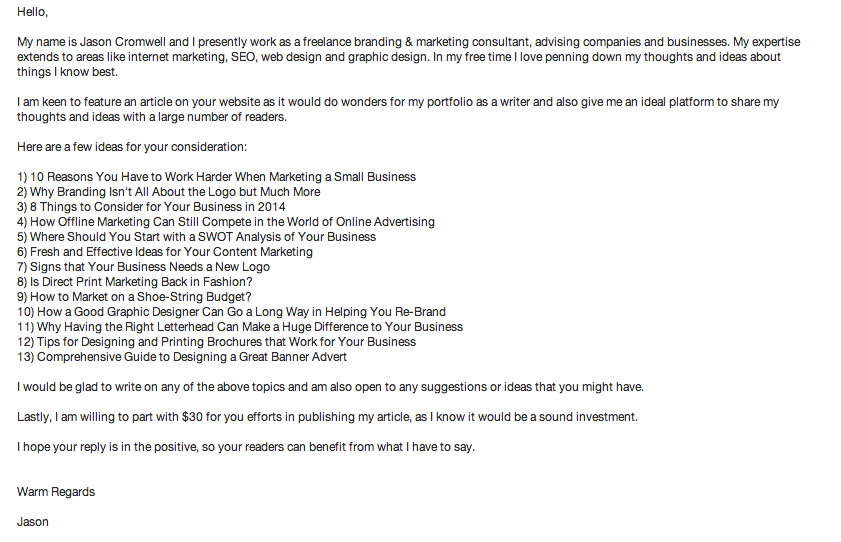 Sending me a bullet list of blogs you can contribute with the title 'Is Direct Mail Having a Comeback?" isn't going to help. We are inbound marketers here at LyntonWeb. So telling me you can help send brochures or fliers probably isn't something that's really helpful to me.
The last and probably most annoying email that I get is the "Canned Spam Everything but the Kitchen Sink" email.
This email is literally a list of everything related to websites, customer service, dog walking, kitchen cleaning, you name it as things that you can provide to me. That's not going to get you through the door.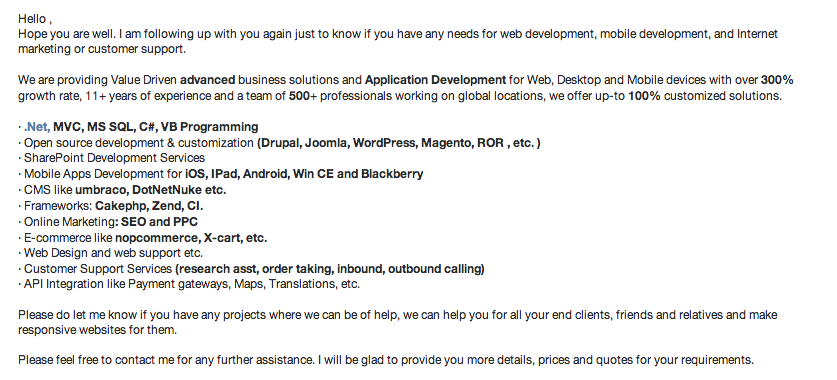 So if you are looking to work with LyntonWeb or you are looking work with me directly:
Again address me as a person.
Look up LyntonWeb.
Look up our careers pages. See if we are actually hiring for something that you offer and send in a relevant email with your resume.
Don't just "send and pray." Again not an effective or useful technique. It's one that will just get you sent straight to the trash bin or on LyntonWeb's Friday Fails.
Look us up on LinkedIn and see if we're hiring for something that you do. Then send me a tailored specific email with your resume offering your services and how you can help.
Thanks for tuning into this week's Friday Fails! I hope it was helpful and relevant to you. Everyone have a great weekend!